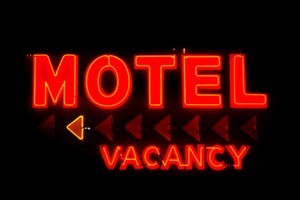 New Zealand and overseas guests spent 165,000 fewer guest nights in Canterbury during March, as the Christchurch earthquake stripped the city of capacity.
Statistics New Zealand's accommodation survey shows guest nights fell 5.4 per cent nationally in March than one year ago, while international guest nights fell by 24 per cent across the South Island during the same period.
The figures were delayed by a month due to the impact of the disaster.
Statistics New Zealand's business statistics manager Louise Holmes-Oliver said available capacity was down by half for hotels and by a third for backpacker accommodation in Canterbury during March.
Guest nights fell 30 per cent across Canterbury during March, SNZ said.
International visitor numbers were also partly hampered in the month by the later timing of Easter and the Australian school holidays.
Short-term overseas visitor arrivals to New Zealand fell 11 per cent to 215,600 compared the same month in the previous year, according to International Travel and Migration stats for the month.
All five South Island regions had fewer guest nights in March 2011 compared with March 2010, recording an overall decrease in guest nights of 15 percent
Otago had the second largest decrease in South Island regional guest nights (down 14,000 or 3.1 per cent) followed by Southland (down 11,000 or 10 per cent).
The trend for South Island guest nights continues to decline and is down 5.5 per cent from the peak of January 2010, Statistics New Zealand said.
In comparison, North Island guest nights rose 1.9 per cent to 1.9 million in March, with three of the seven regions recording more guest nights in the month. The largest increase was Auckland, up 43,000 guest nights or 8 per cent, followed by Wellington, up 12,000 guest nights or 4.4 per cent, driven predominantly by domestic demand.
- Susie Nordqvist / BusinessDesk