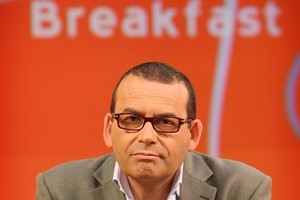 Air New Zealand's latest in-flight safety video stars Richard Simmons - and includes cameos from Paul Henry and Phil Keoghan.
Entitled "Fit to fly with Richard Simmons", the video features the fitness and aerobics guru running through the "in-flight safety exercises".
Simmons, in a blue singlet with a sequined Air New Zealand logo, shows passengers how to stow away their bags ("stretch and slide, yeah, you're a giraffe!"), fasten their seatbelts, and use the oxygen masks, among other advice - all with a disco twist.
Watch the new Air NZ video here
The Amazing Race's Phil Keoghan, who recently returned to New Zealand to encourage tourism in the wake of the Christchurch earthquake, shows passengers how to get into the brace position, before showing off his dance skills.
Former TVNZ broadcaster Paul Henry, sporting a blue headband and pink wristband, is on his phone on the plane as Simmons leads the dance troupe.
"I'm on a plane full of crazies," he says, as leotard-clad dancers pass down the aisles.
"Stop broadcasting, buddy" Simmons says, slamming shut Henry's laptop.
"Don't think that's the first time someone has ever said that to me," Henry replied, before Simmons plants a kiss on his cheek.
Earlier this month Simmons held an aerobics class in Auckland to raise funds for the Christchurch Earthquake Red Cross appeal.
Air New Zealand's last in-flight video starred the All Blacks and a plane full of rugby fans.
- NZ HERALD STAFF