Jim Eagles travels to the edge of civilisation, and stands on the brink of ... nothingness.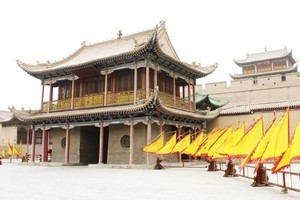 Walk out the Gate of Conciliation from the mighty Jiayuguan fort, at the western end of the Great Wall of China, and you see ... a vast swathe of nothing.
According to Bin, our guide, the gate didn't actually open directly on to the Gobi Desert but it was hard to tell the difference. There was nothing to be seen through its weatherbeaten doors but a dust storm sweeping in above an arid plain of sand, gravel and stones.
Small wonder that when this stretch of wall was built in 1372 it was considered to be at the end of the world - the civilised world at least - beyond which lay only barbarians, demons and dry, trackless wastes. The Ming Dynasty Emperors sent disgraced officials, warriors and scholars here to go into exile.
Small wonder, too, that - as Bin put it while we stood in that very gate - "as they left through here they touched these walls and these gates and cried because they were leaving everything."
Perhaps the exiles were at least allowed to leave carrying a little gold. If so they might have been able to hire a camel or a horse to ride. That was certainly the option facing me as I climbed over a small rise and found a cluster of animals being marketed aggressively to tourists.
I watched a couple of camels go through their paces and decided to give it a miss. Instead I wandered a little way into the nothingness trying to imagine how the exiles must have felt. To be pushed out here must have seemed like a fate worse than death ... not least because this ultimate rejection and disgrace would almost certainly be followed by death from thirst or at the hands of some bandits.
These cheerful musings were cut short by a modern bandit, one of the camel operators. "You want camel ride?" No, thanks, I didn't. "You go back," he said, pointing forcefully at the gate to the fort. "Not good for you here. You go back."
Ah, well, there wasn't much to be seen out here anyway. I trudged back through the gate and resumed my exploration of the fort.
Jiayuguan not only marks the end of the 5000km-long Great Wall built by the Ming Emperors, it also stands astride the entrance to the Hexi corridor, a 50km-wide throat between two great ranges of mountains, linking inner China with Central Asia.
It was a vital staging post on the Silk Road, the great trade route between east and west. And it was also the gateway through which armies passed on their way to impose the benefits of Chinese civilisation on the barbarians ...
Because of its strategic significance, little expense seems to have been spared in building a suitably imposing fort, and it quickly earned the typically Chinese nickname "The most impregnable pass under heaven".
The main gate is guarded by a 17m high tower, but the real trick comes inside where visitors have to pass through two gated inner courtyards surrounded by battlements, where enemies could be trapped and slaughtered.
The massive stone walls also enclose a huge parade ground, an ornate Taoist temple to a ferocious-looking general who was deified for his exploits, and a stage where plays were put on to entertain the luckless troops sent to this last outpost of civilisation.
Not far from the fort is a barrier known as the Overhanging Great Wall because it runs improbably along the top of a steep, rocky ridgeline. A wall was first built here 500 years ago but what you see today was rebuilt in 1987.
It's a steep climb to the top, from where on a clear day you can apparently see the snowcaps on the Heavenly Mountains on one side and the Black Mountains on the other, with the emptiness of the desert in between. I got no such vista, but from the watchtower at the top there was still an impressive view of the sheer rockface rising impregnably from the plains below.
Through the haze I could see a few camels - clay ones, part of a touristy tribute to the caravans that once brought the goods of the world through this desolate place - and beyond them more of the seemingly endless wasteland though which they had to pass.
It was easy to understand why centuries before the Chinese thought this barrier marked the end of civilisation.
CHECKLIST
* Getting there:
Singapore Airlines operates 12 times a week between Auckland and Singapore and then onward to 62 destinations in 34 countries, including China. For more information visit singaporeair.co.nz
* Getting around:
World Expeditions operates its Silk Road expedition from Beijing to Samarkand via Jiayuguan in April, May, August and September. Ring 0800 350 354 or visit worldexpeditions.com for more details.
Jim Eagles travelled the Silk Road with help from Singapore Airlines and World Expeditions.