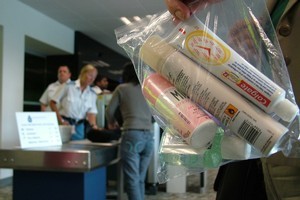 We all tend to take airport security precautions as a fact of life these days. Having to check in hours before your flight, empty your drink bottle, put your lip salve in a plastic bag, leave your nail file in your suitcase and take your laptop out of your bag for checking may be a pain in the butt but there's no choice if you want to fly somewhere.
But I must admit I did have a brief surge of longing for the good old pre 9/11 days when I prepared for a trip to Fiji last week and found on the Air Pacific website that they'd like me to check in three hours before flight time, added in the two hours it can take to get to the airport from Devonport, and thought how ridiculous it was to have to allow five hours for a three hour flight.
About the same time, as it turns out, British Airways chairman Martin Broughton was making a speech complaining about the United States imposing excessive security rules on other countries.
In particular he objected to the requirements that passengers take out their laptops and remove their shoes, which he described as "completely redundant".
His comments drew enthusiastic support from airlines, airport companies, travel operators and even security consultants all agreeing that the time was long overdue for the security requirements to be reviewed and rationalised.
Several experts pointed out that, for instance, modern x-rays and metal detectors were now well able to identify risks in laptops or shoes without having to give them special attention.
According to the BBC, the debate prompted Britain's Transport Secretary Philip Hammond to signal a willingness to allow airports and airlines to do things "differently if they believe that that can reduce the queuing and ease the passenger experience". Here's hoping.
Down here at the bottom of the world we don't have much option but to go along with the generally agreed security requirements or we'll find ourselves excluded from the global aviation network.
But sometimes you do get the impression that the authorities are more concerned with being seen to do something in response to the latest threat than with ensuring that their rules really are necessary to make flying safer.
It would be nice to think there was some logic and consistency - some real point - which justifies the inconvenience of it all.
In the meantime, I'll be getting up at 2.30am for my 8am flight, and I'll make sure I don't have any hand sanitiser in my backpack.