Miniature trains have enjoyed a rise in popularity over the past few years thanks to a certain engine called Thomas, but as Bronwyn Sell discovers, they attract people of all age groups.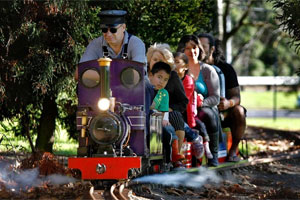 Bill Krippner doesn't even pretend it's all for the kids.
The 46-year-old Hillsborough electrical engineer brashly admits that his 20-year-long tinker with model trains is not for his own children.
Neither is it for the dozen children who are lining up at Centre Park in Mangere for a $2 ride on his blue Thomas the Tank Engine-inspired steam engine.
"It was always for me. It was my thing. If you ask the guys here what we do, we say, 'we come here and play trains'."
Whatever the motivation, the only complaint you'll hear from the children queuing up every Sunday morning for the shiny little trains belonging to the Manukau Live Steamers is if you take "Thomas" away for an hour for, say, a Weekend photo shoot.
"But Mummy, I want to go on Thomas," comes a small voice leaden with disappointment as we chug past the little station without stopping.
"Thomas, Thomas, THOOOOMAAAAAAAS!" demands another.
The Thomas the Tank Engine revival among this generation's preschoolers has been a big boost for the club, which has been puffing and motoring its steam and diesel engines and carriages along purpose-built miniature tracks off Robertson Rd since the early 1980s.
To today's children, who've grown up with trains in their toy boxes but not in their neighbourhoods, this is not merely a grey-haired trainspotter's obsession. It's magic.
"Thomas has been the greatest thing for our hobby, it really has," says Bill, as his engine patiently idles at the station. "The kids are all Thomas freaks."
The engines puff with pride as they pull into the station, their carriages gliding and shuddering behind them. Each Sunday the rostered drivers clip an average of 300 tickets. During their twice-yearly open weekends, when they host other clubs from around the country, they've been known to clip close to 10,000 tickets (all the money earned goes back into the club).
The locomotives and tracks are a labour of obsession for the Manukau Live Steamers, many of whom are train junkies who once worked on the railways. It can take years to build a locomotive from scratch and many members have given over their garages to train workshops and their backyards to tracks. Bill, the current president, has spent the past 11 years building a th scale replica of the Kingston Flyer, which recently made its Mangere debut.
Bill joined the club when he was 25 - a sprightly age to embark on what he admits is an old man's hobby. He'd been fascinated by trains since he was a child and had long harboured an ambition to build a steam engine; to build something that goes. "For me, the ultimate."
It's fortunate that Bill's wife, Wendy, shares his enthusiasm and has learned the tricky art of stoking and driving the coal-powered steam engine. The wives of other members haven't enjoyed such a mutual fondness for the hobby. "There are some marriages [that have] been busted up about it," says Bill. It's also fortunate, he says, that it's a pursuit you can share with children. Though Krippner boldly claims sole ownership of the hobby, he did make one concession to his now-adult son many years ago - he built Thomas for him. Imagine, a 4-year-old boy with a real little Thomas in the garage.
The club's tracks too are the legacy of many a lost weekend. Almost 30 years of lost weekends. The club started back in 1981 when local community leader Anne Massey asked a few train enthusiasts what it would take to get a model train track in Mangere, for the benefit of the hobbyists and the public. A park and money was the answer.
Massey delivered Centre Park, just south of Mangere Bridge, and the assistance of the Manukau City Council.
In two years the first track was in place. Based on the famous Raurimu Spiral in the central North Island, it curves and twists through the park for 760m, through a tunnel and over two viaducts and a bridge.
A second track was opened in 1990 - a 1.2km loop around the park that crosses a 60m bridge - and linked with the little station (now named Massey Junction) and marshalling yards. All in miniature.
You don't have to be a trainspotter to be impressed by the pretty little locomotives the club members are so proud of. The smallest weighs only 40kg but can haul a human load about six times that. The biggest can pull more than 100 passengers.
Yes, it's geeky, old-school entertainment, but the kids love it - almost as much as the club members do. And, luckily for the kids, Bill and his fellow drivers are very, very good at sharing.
"There aren't many hobbies you can really share like this," he says. "You go round this track once on your own and after that it's really boring. But put people on the back and it's great.
"It's really special."
CATCH A RIDE
Miniature train rides
Mangere
Mangere Live Steamers.
Centre Park, Robertson Rd, Mangere. Sundays 11am-4pm, weather permitting
Mt Wellington
Auckland Society of Model Engineers.
Peterson Rd Reserve, Mt Wellington, next to the Panmure Lagoon. Sundays 1-4pm weather permitting
Hamilton
Hamilton Model Engineers.
Tui Ave, Forest Lake, Sundays 10.30am-3pm, weather permitting
Rotorua
Rotorua Society of Model Engineers.
Te Amorangi Museum, 35 Robinson Ave, Holdens Bay. First Saturday of every month, 10am-4pm, weather permitting
Tauranga
Tauranga Memorial Park Miniature Railway.
Memorial Park. Sundays 10am-4pm, weather permitting
Thames
Thames Small Gauge Railway.
Browns St, Thames Sundays 11am-3pm
Whangarei
Whangarei Model Engineering Club.
Heritage Park Miniature Railway, SH14, Mauna. Third Sunday of every month, weather permitting