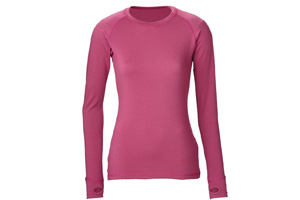 Ask skiers the best way to dress for all weather conditions on the slopes and their tip is to layer.
This UltraCore women's base layer long-sleeve top is ideal for the first of those layers for skiing or other outdoor activities in cooler months.
Made from 95 per cent polyester and 5 per cent elastane, it is designed for next-to-skin wear. For the minus degrees we experienced on a ski trip to Queenstown, I would start with my "dusky rose" UltraCore, then a polypropylene top followed by a long-sleeved top or skivvy before topping the lot with my ski jacket. Layers could be stripped off as needed.
Plus this top folds up to next to nothing and can be easily popped in a jacket or snow pants pocket if you need to shed a layer. Next time I intend to try the UltraCore with a merino top to see how light I can go with the layering combos while still staying warm.
Of course, the beauty of these ultra light garments is that they add hardly any bulk and don't weigh you down or restrict movement. I also gave mine the soccer mum test, and on a bracing winter's day watching my youngest's team win 6-0, it added that layer of warmth I now realise had been missing, and stopped the wind's chill penetrating.
The top has a UPF20 rating, is easy to wash and quick to dry (but don't pop it in the dryer).
Women's UltraCore top's basic price at Kathmandu is $79.98.
Donna McIntyre