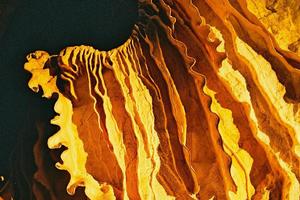 It's after dark on a steamy night in the Blue Mountains when we gather under the Great Arch, the magnificent entrance to the famous Jenolan Caves, and we tell our guide that no, we don't believe in ghosts.
Well, not yet anyway.
The ghost talk crops up because a small number of us are about to begin the caves' Mysteries, Legends and Ghosts tour. It's said to be free of Hollywood-style gimmicks like sound effects, instead relying on true tales of ghostly sightings and unexplained goings-on to scare the hell out of cave-goers.
It seems the Jenolan Caves are so spectacular that some spirits never want to leave.
But first a bit about the caves themselves. Scientists recently discovered the network of limestone caves make up the world's oldest open cave system, dating back 340 million years.
The Aboriginal people named the caves, set in a secluded valley on the edge of the Blue Mountains World Heritage Reserve, Binoomea, or "Dark Places". The first European to stumble across them was escaped convict James McKeown in 1838.
The most spectacular thing about this particular tour of the caves is the imaginative way their different chambers have been lit up. In this case less is definitely more. Subtle lighting picks out the limestone which has crystallised into towering milk-white formations. Stalactites growing down from the ceiling and the stalagmites growing up from the ground are illuminated just enough to show them off.
Other lighting casts long shadows down passageways that still haven't been properly explored.
When the stalactites and stalagmites join they form to make a column. In the Lucas Cave, where we begin our ghost tour, the most impressive of these can be glimpsed: but it is incomplete having been broken by earth movements thousands of years ago.
Other shapes known as canopies and shawls are spread throughout the caves; they and other formations have been given a variety of nicknames like the Bishop and Three Sisters, Home of the Fairies and Lot's Wife.
During our ghost tour, haunting music is piped into a chamber as we stop and stare at our reflections in a pool that forms part of an underground river. As we do, an eerie green light envelopes the area around us, fitting the mood of the night perfectly.
All 11 show caves are now lit up and pathways have been carefully carved through them in such a way as to preserve and highlight the incredible colours and formations that have been millions of years in the making.
As we descend deep underground you suddenly realise how lucky you are to have light, and a guide who knows the way.
The first explorers of these caves were armed only with hand-held candles and a sense of adventure when they walked and crawled their way through the cave system.
So it's no wonder there were some strange goings-on. As we weave our way through the ancient passageways we're told stories of guides who were convinced they weren't alone in the caves, of hearing voices and footsteps from behind when there should have been silence.
One guide returned having heard what he said sounded like a tour group making its way through a nearby cave. Puzzled, because he thought he'd been alone, he looked for the chattering people but found nothing. When he returned to the historic Caves House on the surface colleagues assured him there had been no one down there.
As we walk single-file through a door into an enormous chamber to go further underground, a blast of cold air hits us.
It's little moments like that, along with an unseen dripping sound coming from somewhere close by, that raises the hairs on the back of your neck.
Tour over, we haven't seen any ghosts but with much of these parts still unexplored there are almost certainly caves still waiting to be discovered.
With who knows what inside.
CHECKLIST
Getting there: Air New Zealand flies several times a day to Sydney.
The Jenolan Caves are in the Blue Mountains. You can easily get there
by rental car or take a trip with Australian Boutique Tours.
The caves: Jenolan Caves are on the web at jenolancaves.org.au.
Andrew Koubaridis travelled as guest of Air New Zealand and the Jenolan Caves Reserve Trust.
WIN A TRIP TO THE JENOLAN CAVES
How would you like a four-day holiday for two admiring the scenery in the Blue Mountains and checking out the ghosts at the Jenolan Caves and at Sydney's historic The Rocks district?
Jenolan Caves, the Grace Hotel and Herald Travel are offering readers the chance to win a package consisting of:
* Return flights for two to Sydney with Air New Zealand.
* A sightseeing tour from Sydney International Airport though the Blue Mountains to the Jenolan Caves with Australian Boutique Tours.
* One night's stay at the Jenolan Caves House with a roast lunch and regional dinner, and breakfast in the haunted Miss Chisholm's Dining Room, a walk through the Lucas Cave and a Myths, Legends and Ghosts Tour.
* A sightseeing tour of Sydney.
* Two nights' accommodation and breakfasts at the Grace Hotel in Sydney.
* A ghost tour of The Rocks district.
* Admission to Sydney Aquarium and Centrepoint Tower.
* To enter just write your name, address and a daytime telephone number on the back of an envelope, add the name of the mountains where the Jenolan Caves are found, and post to: Ghost Holiday, Travel Section, NZ Herald, PO Box 3290, Auckland 1010. Entries must be in the Herald office by July 20 and the name of the winner will be printed in Travel on July 27.