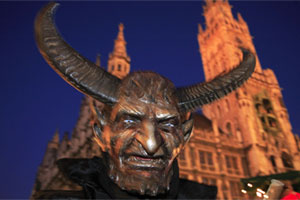 It's evening in Embach, a small village in the Austrian Alps, and people are gathered around fires, drinking Gluhwein and munching on sausages. Suddenly a tractor towing a trailer lit up by flares and fireworks comes chugging into the square.
A group of 2m tall hairy monsters with huge grotesque masks and large cowbells hanging round their waists jump up and down in the trailer, growling menacingly. A curious excitement grows amongst the spectators.
After a few minutes of snarling, the beasts leap out and maraud through the crowd. Children cling to their parents. One behemoth comes up to me, pulls off my hat and gives me a whip around the ankles with a bundle of birch twigs.
It stings, but everyone around me chuckles, until they, too, get a whack.
It's Krampus season in the Alps, one of the darkest and oddest traditions to survive our modern politically correct times.
Like something out of a Brothers Grimm fairytale, local men in hundreds of mountain settlements in Austria, Bavaria, Northern Italy and Switzerland dress up in scary outfits and roam through snow-covered Alpine villages, frightening children into humble obedience.
While most tourists visiting the Alps in early December go for the snow, or wander through picturesque markets in town squares (known as Christkindl Markets), it's worth venturing into the countryside to take a look at this fascinating pagan custom.
They are part of a pre-Christian tradition that over time has morphed itself into part of the Advent festivities. They accompany St Nicholas; the generous saint who distributes presents to the deserving, and is now commonly identified with Santa Claus.
The idea is that if children have behaved well, they get a pat on the head from St Nick and a gift, while the not so well behaved most likely get dunked in the snow and scared witless by roaring Krampuses.
Concerned parents are nowadays given a phone number for the nearest Krampus Pass (group), which they can call if they wish to have their problem child put back on the path of righteousness.
"When I was a child, and you heard their cowbells, you ran," says Irmgard Bogensperger, 61. "It was definitely scary and there were always horror stories from those children who got taught a lesson by the Krampuses.
"To this day, if I am at home alone and hear those bells I lock the door and turn off the lights."
Markus Berger, who spent his teenage years in Bad Aussee, Styria, says the thrill of being chased by Krampuses was all part of the fun.
"It was exciting, we used to run through streams or people's gardens to get away," he says. "For sure, if you got caught you knew about it."
While the ritual has mellowed slightly in recent years, Krampus-related festivities are still popular and as much for tourists as they are for villagers.
In Hallein, Austria, 600 Krampuses from across the Alps parade in front of 12,000 spectators and many other Krampuslaufe invite groups from neighbouring areas to join in the craziness.
Various regions have their own interpretations of Krampuses. Many villages retain the hairy outfits with elaborate hand-carved wooden heads, while other towns opt for more modern ogres.
In Fuschl am See, 25km east of Salzburg, Austria, the Krampuses look like devils who crawled out of the local lake with smooth red skin and horns and knobbly spines. Perchten, female demons with Slovenian origins, accompany Krampuses on their parades in the Pinzgau area, while in North Italy, a creature named Badalisc emerges from the forest.
It's the medieval and gothic nature of the scene that makes the Krampuslaufe intriguing and worth visiting.
"To someone who has never seen it before, I'm sure it would seem strange," says Berger, "but really it's a great thing and hope the tradition never stops."
CHECKLIST
Getting there: You can fly Auckland to Heathrow with Air New Zealand and connect via train or internal flights to Austria or Switzerland. Connect to Salzburg with Ryan Air or to Munich with EasyJet.
Where to stay: At Embach (90 minutes by car from Salburg airport) hotels include Sporthotel and Gasthof Embacherhof.
At Fuschl am See (30 minutes by car from Salzburg airport) the options include Gasthof Mohrenwirt and Seerose.
At Bad Aussee (90 minutes by car from Salzburg airport) try Gasthof Staud'nwirt or Hotel Gasthof Sonne.
In Munich there's Cortiina Hotel.
Further information: A schedule of all Krampuslaufe throughout the Salzgammergut region can be found here.
More details on Munich's Krampuslaufe can be found at muenchen.de.