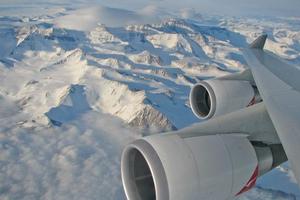 We're above the Southern Ocean heading to Antarctica on New Year's Eve in the comfort of an Airbus A380 cabin when word comes from the flight deck that icebergs can be seen below.
Passengers rush to the windows on the port side and there are cries of delight when the floating white masses are spotted in the ocean below. They are just a tantalising taste of what is to come as we jet south from Melbourne with 450 passengers aboard our chartered Qantas Airbus.
As we close in on Antarctica, we pass over huge ice floes, then skirt part of the continent's vast icecap, before reaching mountains with steep walls of barren black rock hemmed in by massive white sheets of ice and snow.
Passengers politely queue with their cameras and take turns to peer through the windows, eager to capture the landscape on film.
A single mountain with its stark rocky slopes and great frozen icefields, set in the ever-changing play of light in the land of the midnight sun, can hold the eye indefinitely.
But there are chains of such mountains, as well as massive icy flats stretching to the horizon, sights that bring home the vastness of Antarctica, a continent approaching twice the size of Australia.
From the warmth of an airliner's cabin, it is easy to wish to be on the ground. The reality of course is that this bleak, vast and beautiful landscape is forbidding and much of the time bitterly cold. It has claimed the lives of many explorers and, even today with advanced technology, it takes great care and a major logistical effort to get anywhere.
Our Airbus captain, John Dennis, is an aerial pioneer of Antarctica and this trip marks his 40th sightseeing flight to the southern continent.
He confesses to having an "absolute passion" for Antarctica since he first flew over in 1994. "No matter how many times you do it, you still get the same sensation," he says. "It's hard to get the grin off your face."
Captain Dennis says he doesn't try to explain to passengers what they are going to see - they have to experience it for themselves. "Videos and photos are only a prompt to your memory. Pictures can't do it justice. It's so vast."
The 61-year-old recalls his first flight south and the "wow" feeling as the plane dropped out of cloud and there was the continent stretching across the full horizon.
So great is this fascination that in 2008 he also set foot on Antarctica, travelling there by ship and visiting Australian explorer Douglas Mawson's hut at Commonwealth Bay in the Australian Antarctic Territory. "I had to complete the picture."
Also on board for our flight is Australian Antarctic Division research scientist Ian Allison, a glaciology specialist who has undertaken 20 expeditions south. He gives a detailed commentary on what lies below as the plane passes over ice and snow fields and giant glaciers flowing between jagged chains of mountains.
Our circling route takes us across only a small corner of Antarctica adjacent to the Ross Sea, but includes spectacular views of the Transantarctic Mountains that stretch 3500km across the continent.
They are a highlight for 77-year-old passenger Neil Ross from Port Macquarie in NSW, who is on his third "absolutely sensational" Antarctic sightseeing flight. "There's nothing better than the landscape, and it keeps changing."
These regular Antarctic charters, organised by Croydon Travel since 1994, fly at a minimum safe altitude of around 600m above the highest ground, giving passengers stunning views of the landscape, though generally too high to see wildlife.
According to cloud and weather conditions, the flight crews vary the routes to maximise good viewing and often fly circular patterns to give passengers on both sides of the plane a view of prominent mountains and glaciers. Midway through the flight, economy-class passengers are asked to swap seats to maximise viewing for all.
After the excitement of overflying Antarctica, the morning haul back to Melbourne is a chance to catch up on sleep for passengers who have escaped darkness for a night by heading south to the midnight sun.
Stored in hundreds of cameras are thousands of photos, waiting to spark memories of the porthole views and the aerial glimpse of an awesome white continent.
CHECKLIST
Getting there: A round trip flight to Antarctica takes about 12 hours out of Melbourne. Prices range from $1250 for economy to $7600 for first class. Two more flights are being organised this summer - on a Qantas A380 Airbus out of Sydney next Sunday and a Qantas Boeing 747-400 out of Melbourne on February 14.
Further information: antarcticaflights.com.au.
Lloyd Jones travelled to Antarctica courtesy of Croydon Travel
- AAP