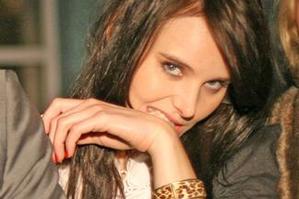 Do you travel light or heavy?
Light but messy.
Cattle or first class?
Your money or mine?
I can't travel without...
Losing things.
What's always in your hand luggage?
Money, books, passport, lip balm, iPod, posca pens, tobacco, filters, papers, lighters, ballpoints, old boarding passes, a plastic fox wearing a plastic skull, sunnies, some sewing, toothbrush, odd sock, mascara, scissors, couple of horse chestnuts, laptop. Recently some gingernut biscuits and some plastic euro coins.
Are you a planner or last-minute packer?
I used to plan, but now I know it off by heart and can execute in 20 minutes.
What's the best thing you've brought back from a trip?
Faux tiffany chicken lamp and photo of Snoop Dogg.
Best packing tip?
Bring all your underwear.
Most memorable trip?
Every time I've been to America has been the best trip. Since it's always for work we spend a month doing a show at night and driving all day. You end up in quite a mad state. The last time we were driven by a man called Andre, who has "whatever" tattooed on his hand and a chihuahua drinking a tom collins on his bicep, and is the best man alive. He took us to the biggest sundial in the world - which is also a bridge - and introduced us to real Mexican food and real Mexican tequila. It was kind of nuts; every day something incredible would happen, like seeing dolphins, or riding a tank in the desert, or Dre trying to kill a man with the car...
* Sophia Burn is the bass player of The Veils, who will be performing at the Big Day Out on January 15.