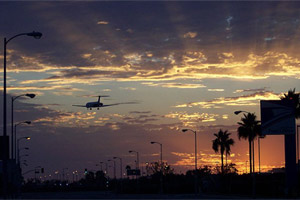 Has the business of transiting through Los Angeles, en route from Auckland to London, got any better in recent times? And, in particular, has pre-clearance via the Electronic System for Travel Authorization (ESTA), introduced by the United States earlier this year, sped the process up? That's the reasonable question raised by Travel readers Graham and Diane O'Dea.
The O'Deas say they last went to Europe via LA back in 2007 when "the experience of getting through US Customs and Immigration was tiresome".
In both directions processing took so long that "the last passengers off the plane were just being processed as we reboarded for the next leg".
So have things got better since then? I put the O'Dea's query to the US Embassy in Wellington.
In response a spokeswoman for US Customs and Border Protection pointed out that the ESTA system was never intended to affect the process of transiting through the US.
"All Visa Waiver Programme travellers are required to obtain a travel authorisation via the ESTA before they travel to the United States. ESTA is an automated system used to determine the eligibility of visitors to travel to the United States under the Visa Waiver Programme. The inspection process has not changed. Visitors are still required to be inspected by Customs and Border Protection officers upon arrival."
The best advice to give any readers concerned about passing through an airport like Los Angeles, the spokeswoman added, was to check processing times at US airports which are listed online.

"This will give the traveller an idea of how long the wait times are at any particular time or day."
Air New Zealand's Auckland-London flights use Terminal 2 at LA and it is indeed an easy matter to visit the website to find that what it calls "wait times" for passengers range from as little as two minutes to as much as 117 minutes, with the average being 21 minutes.
Between 2-3pm, which is when the Auckland-LA flight is usually due, the average delay is only 16 minutes. And between 7-8pm when the London-LA flight is due it is 24 minutes.
But, Customs and Border Protection points out, that "does not represent the average delay experienced by all travellers. It represents the total flight processing time from arrival to the time the last passenger completes screening at the primary inspection area. It is the longest time that any passenger on a given flight had to wait. The average passenger on the flight would have a shorter wait and the first passenger off the plane will typically be processed in a fraction of the wait time shown below."
That, you'd have to say, doesn't sound too bad. But what does it amount to in practice?
I haven't transited through LA myself this year. But my colleague Chris Barton did so quite recently.
On the outward leg, he said, on arrival at LA he was directed to a queue to the transit lounge.
"I was among the first off and I only had to wait 15-20 minutes to be processed but I noticed that the people who were later getting off had to wait a lot longer."
On the journey home, however, his flight from London was delayed by two hours and this created all sorts of problems.
"When we arrived in LA we were told there were no transit area staff so we were bused to another terminal and given pink transit cards. The immigration area was packed with very long queues that were going to take ages to get through.
"For a while it looked hopeless, we'd never get through in time, but fortunately someone realised this and called all people with pink cards to a new queue where we were processed by two or three staff, though it was still very slow... It all seemed ridiculous, quite pointless, and there was quite a lot of anger about."
This, remember, isn't what happens when you try to enter the US itself. It's what happens when you have to transit through LA, basically so the plane can refuel and take on a fresh crew, on the way to somewhere else.
And, answering the original question, it sounds as though the experience of transiting through LA varies markedly - you might have a good run or you could be unlucky - but ESTA doesn't seem to have made any difference and things are pretty much the same as they were in 2007.
- Jim Eagles
Pictured above: Transit times when travelling via Los Angeles vary markedly. Photo / Wikimedia Commons