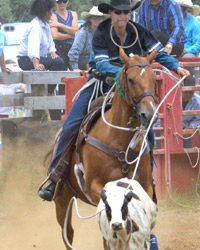 Admit it. At some point in your life you've fantasised about being a jillaroo (or, if you're a guy, a jackaroo). That's okay; you're not alone. There's something attractive about the idea of living on the land, galloping around on horseback, mustering cattle and just generally looking tough.
Think McLeod's Daughters. Strong, independent young women driving utes, catching men with lassos and fixing fences, all while looking sexy with a well-placed smear of dirt on the forehead for authenticity.
Having spent some years travelling through rural areas, visiting rodeos and doing some fairly tame horse riding, I decided it was high time I learnt more. I wanted to know not just how to ride a horse properly, but the rest of the skills needed to work a farm. And, I won't deny it, I wanted to wear chaps and crack a whip.
When I turned up in Tamworth to meet the Jillaroo Bus, the street was filled with overseas backpackers donning brand-new Akubras and dropping in "G'days" and "mates" whenever they got the chance. Don't fair-dinkum Aussie sheilas want to become jillaroos these days?
As the road snaked out of town into the New England hills, we left the sealed bitumen behind and drove up through some beautiful countryside. I sat back, relaxed and studied my fellow prospective jack-and-jillaroos and realised there were only two Aussies on the trip. I guess that answered my question.
Arriving at the Leconfield Jackaroo/Jillaroo School, we were shown the tin shed that was to be our home for the next five days. Bunks lined the walls, leaving a small space for a kitchen and a couple of couches. Being last off the bus, I found myself assigned to a top bunk by the toilet door. Greeaat. Luckily, there was also a collection of swags, so I could sleep out under the stars instead.
No time for standing around chatting, though. It was bags down, work clothes on and up to the sheds for an introduction to Natural Horsemanship. This means treating the horse with care and respect, gently communicating what you want from it, rather than forcing it.
Effortlessly, Steve, our instructor, pressed the inside of his horse's thigh. The horse lifted its leg. We learned how to clean hooves, which brushes to use for different parts of the horse and how to place and remove saddles. Steve worked his horse with ease and grace. I wasn't convinced I could do the same. I've ridden some, but have never been too sure about horses. Never been able to read them very well, to know what they're thinking and how to approach them.
After lunch we were each assigned a horse, which is when I was introduced to my beautiful new friend, Cheeky. Remembering all Steve had said, I was connecting with Cheeky using love and respect, which worked well. I was able to clean her shoes of stones, brush her tail and coat and put on the saddle; all things I'd never done before.
Once Cheeky was saddled up, we had another lesson in Natural Horsemanship with Tim Skerrett, the owner of the property: how to control the horse, how to mount and dismount, stop and start, turn left and right, all things I'd just been guessing at in the past. We were taught clear signs and signals to let our horses know what we wanted them to do. With these skills fresh in our minds, we headed off on a beautiful trail ride through the property, receiving a lesson in bush tucker as we went.
The following morning brought our chance to learn the tricks that make you look like a real jillaroo: whip-cracking, lasso-throwing and horseshoeing. Now, horseshoeing might not sound that exciting, but the thing is, you get to wear chaps! I spent more time strutting around having my picture taken than shoeing any actual horses.
The whip-cracking takes a few gos to get right, but once you've got it - wow - instant cowgirl.
The lasso-throwing wasn't exactly what you see in wild westerns. We weren't galloping along on horseback; we were standing stationary in a paddock making casts at a bull's skull attached to a pole. And even then, missing. I guess you have to start somewhere.
That afternoon we took Mustering Sheep 101. Again, it was a fairly tame experience. No galloping or chasing, just a gentle ramble round the farm, gathering in the flock. It was a good opportunity to work on the horsemanship techniques, though.
Once we had the sheep in the pens, the pace stepped up a bit. We had to catch a sheep, sit it on its hind legs and check its eyes and teeth. This involved jumping into the pen, fixing your eye on the one you wanted, chasing it round, grabbing it by the wool and getting dragged around for a bit. Once it held still, you'd grab its front legs and flip it on to its bum. And yes, it was as difficult as it sounds. At one stage I found myself underneath a sheep, which I'm sure isn't the approved technique.
We loaded a couple of sheep into a truck bound for the shearing shed and all piled in behind. The shearing shed was exactly like the Tom Roberts painting: worn wooden floor, corrugated iron walls and all. Taking the old mechanical shears, we took turns clipping the excess padding from old sheepy. Unfortunately for old sheepy, some of us were better than others, and it was left with a few scarlet scrapes. Still, nothing compared to what one poor sheep back at the farm was about to experience.
Watching the butchering of a sheep is an optional activity. But, being a meat-eater, I felt it would be good for me to see how a sheep is killed then butchered ready for dinner. Steve ran us through what he was going to do, then quickly and deftly slit its throat as we looked on, some through parted fingers. Others looked away entirely. It did seem a quick and painless death, and the sheep had a happy life right up until its last moments. Although the headless body twitching afterwards with blood spurting from the aorta was gruesome.
The following morning it was back to horsey business, with Tim teaching us some of the finer points of Natural Horsemanship, including how well you can control a horse if you're in tune with it. A variety of games and activities helped us become more connected with our horses and understand their points of view.
By the end, I was able to get Cheeky to do what I wanted without using my hands, just gentle pressure from my feet.
The next activity was creatively called "pasture improvement" - which really means getting a bunch of backpackers to pay to do the weeding for you. This was optional but, wanting to keep in with the spirit of things, I opted in.
The blonde Swedish backpackers, however, decided to laze about in their bikinis by the shed, much to the delight of a few passing farmers. I could see their thoughts ticking over: "So, while we toil on our farms every day for very little money, Tim here has blonde backpackers pay to strut around in bikinis while others do the hard work for him ... why didn't we think of this?"
After digging up weeds from a parched paddock in the blazing midday sun, we all had a dip in the dam before heading off to fell trees, strip them of bark and carry them up the hill to the back of the truck.
The next day - Thursday - was the one I'd been waiting for: the day to live out my latent Man From Snowy River fantasies. We were led into the hills to muster cattle, spreading across the property in small groups. Up through beautiful eucalypt forests we rode, rounding up cattle as we went, before finally bringing them together to drive them up a ridge to the top paddock.
While the group was gathered so tightly, it was a bit slow and frustrating. But when a bull bolted down the mountain, most of the group stopped to look for it, leaving just a few of us to take the majority of the cattle the rest of the way.
This was much better. I had to draw on all I'd learned about Natural Horsemanship. With the slightest nudges of my feet I was able to get Cheeky to go exactly where I wanted. We moved in and around the cattle, gathering them up, driving them up to the yards for our next challenge.
Once they were safely in, we were given the chance to wrestle a steer. Steer-wrestling is huge on the rodeo circuit and a skill that would definitely augment my jillaroo status. However, chasing a steer around the yards then being dragged around after him proved pretty tiring. So when it came to the wrestling part, where I had to twist him round and lay him on his side, I was almost out of steam.
Fortunately for him, he got away. Not to be defeated, I caught him again, flipped him and ... somehow was underneath him. Steer 1. Robyn 0.
Then, at last, we had a chance to try out our lasso skills on a living beast. I got ready to head back to my horse, saddle up and gallop after a few wild bulls, but unfortunately that wasn't to be. Instead, we stood in a circle with one small calf standing stock-still in the middle and took turns throwing the lasso from 2m away. Even then it wasn't easy.
The day wound up, as all good days should, with a bit of bull castration. Thankfully we weren't all given knives and told to "get stuck in". Tim did the deed while we all looked on. And let me tell you, seeing a sheep slaughtered was nothing compared to watching a poor little calf have his private parts cut open and his manhood popped out into an upturned Akubra.
That night a weary but happy group of jack-and-jillaroos headed back down the mountain. Each day we felt more and more as though we belonged on that farm and that the work we were doing was actually of use.
Our last day at the farm was a relaxing one. We took the horses down to the swimming hole in the morning. Holding on to their manes, we walked with them into the water. Then, as we got out of our depth, we swam with them. They seemed to enjoy it as much as we did.
After a beautiful picnic lunch under the shade of the spreading trees, we had a go at branding. Not on animals but on ourselves, on clothes, hats, bags, whatever we wanted to take home and show off to friends.
After five days, it was more than a tattooed hat that made me feel like an authentic jillaroo. Not only could I ride with no hands, crack a whip, spin a lasso and muster cattle, I'd learned the practical aspects of farm life.
As I rode Cheeky back to the sheds for the last time, I felt I knew what she was thinking. And it was with a heavy heart that I said goodbye.
CHECKLIST
Getting there: Tamworth is about 420km northwest of Sydney and is accessible by daily trains, buses and flights from Sydney and Brisbane. Leconfield Jillaroo/Jackaroo School provides pick-up and drop-off from Tamworth for the courses.
Jillaroo school: Leconfield Jillaroo offers five- or 11-day courses including accommodation and meals.
Other rawhide experiences in Australia include Jackaroo and Jillaroo Australia, Tamworth; Yarrowitch Jackaroo/Jillaroo School, near Walcha, NSW; and Fordsdale Farmstay Jackaroo/Jillaroo School in Toowoomba, Queensland.
Tamworth: Tamworth is the country music capital of Australia. Its annual Tamworth Country Music Festival in January is a hallmark Australian music event.
Further information: For general information on New South Wales and Australia see sydney.com and australia.com.