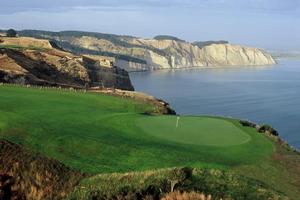 Cape Kidnappers is consistently ranked among the world's best golfing resorts. No wonder I was so excited about this trip. And that probably explains the first red-faced moment.
On landing at Napier airport, my wife and I giddily hopped into our rental car, pointed it southeast towards the cape and floored it with glee. Five minutes later we pulled back up outside the airport to sheepishly collect our luggage and discreetly slip away again.
The cape for which the resort is named makes up the shark-tooth southern tip of Hawkes Bay and getting there from the airport is a pleasant drive through Napier and its surrounding wine country.
Cape Kidnappers resort covers a whopping 2400ha - pretty much the whole cape - and the drive to the lodge, known as The Farm, twists and turns through rugged gorges, bush and farmland.
The building sits majestically at the top of the cape overlooking the whole of Hawkes Bay. Though The Farm is not even two years old, the solid wooden beams, classic styling and epic location make it feel as though it's been here forever.
And you feel like you've been there forever almost as soon as you arrive.
Within minutes we are seated on the lawn, soaking up the views with coffee and scones. Refreshed, relaxed and refuelled we head out to explore in the 4WD - this is rugged country.
Wandering through the forest to the property's craggy tip makes the vertigo kick in, with sheer drops down hundreds of feet to the crashing waves. The guide reminds us of the area's tendency toward earthquakes and landslides. How reassuring.
After all that fresh air it was back to our lavish suite for a quick nap before cocktail hour. Very civilised.
Cocktails in the main lounge is a chance to admire the resort's fine art collection from a comfy chair by the fire, as the sommelier advises wine choices to match the hors d'oeuvres.
Then, appetites stirred into action, it was time for a five-course meal in the Loggia room, which has the feel of a stylishly converted barn, with giant sliding doors opening to the cape; the Napier lights twinkle in the distance.
Day two dawned with the chance to hunt kiwi. Seriously. A 10km predator fence spans the cape, coast to coast and it plays a crucial role in protecting the property's Cape Sanctuary, where North Island brown kiwi are being bred. By 2040 it's hoped the sanctuary will have one of the largest kiwi populations in the country.
John, our guide, gave me a hand-held aerial and a bleeping device and sent me off into the forest in search of a 6-month-old kiwi named Kora. Being a typical bloody kiwi, Kora decided to make finding her as difficult as possible. After sliding down a gully and walking in circles I admitted defeat. I had lost Kora's bleep.
John then scared the hell out of me by saying I was probably standing on her... or next to her.
Sure enough, tucked under a fallen log under the cover of pine needles, less than a metre away, little Kora was taking a nap. It was the first time I'd seen a live kiwi up close. They are beautiful and - with Kora miffed at being woken and hung upside down for weighing - you realise what little fighters these birds are.
John then took us to the other side of the property to show us the coastline of untouched dunes, which hide preserved moa bones and eggs.
I was falling in love with this place, and when you fall in love, you do dumb things.
For me that meant deciding to go on a mountain bike adventure into part of the sanctuary that can be accessed only via foot or bike. On my first downhill run, I realised I'd made a fatal error - I hadn't a clue how to mountain bike.
An hour and many bruises later, I heaved my battered and bloodied carcass out of the bush and sensibly walked my bike back to the resort. There was an upside though - a massage and soothing soak in the jacuzzi at The Farm's gorgeous spa - complete with Picassos on the walls - all the while watching the sunset across the bay once again.
Day three meant the chance to experience the world-class golf course for which Cape Kidnappers is becoming increasingly famous. The clubhouse alone is spectacular. Keeping the farm theme going, it too resembles a barn conversion of epic proportions. I disgraced myself just the once on the course, and it wasn't golf-related. I simply ploughed my cart through a boundary fence while taking in the spectacular views. In my defence, they are very distracting.
And then, sadly, it was time to wrench ourselves away from this stunning property. If only we'd left our luggage behind - we'd have an excuse to sneak back.
* * *
Cape Kidnappers was recently ranked fourth in Golf magazine's list of the world's 50 greatest golf courses of the past 50 years. Its sister property, Kauri Cliffs in Northland, was ranked 18th.
The Farm at Cape Kidnappers is hosting The Great Shiraz Challenge on
Saturday, October 24. The event will feature Australian wine guru James
Halliday and well-known New Zealand master of wine Bob Campbell. Each
will field a shiraz line-up from their home country to see who comes out on top. Tickets for the event cost from $800 each a night, including accommodation.
Both Kauri Cliffs and Cape Kidnappers have a winter offer from $625 a person, a night Sunday to Thursday or from $675 each a night Friday to Saturday, until October 31. This includes a day of unlimited golf or a 50-minute massage for every night of your stay, luxury accommodation, cocktail hour, a gourmet dinner, full breakfast and use of all the facilities.
Getting there: Air New Zealand offers up to 11 flights a day between Auckland and Napier. You can organise your rental car or airport parking when booking by calling 0800 737 000 or visiting an Air New Zealand Holidays store.