Greg Ansley finds The Ghan offers luxury in unforgiving wilderness.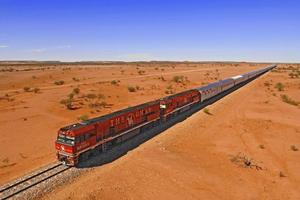 Idling the last hours of a silken Darwin night beneath gently swaying palms, feet in the pool and eyes fixed on the moon over the Timor Sea, everything seems easy.
Tomorrow we bisect Australia, crossing some of the cruellest land on the planet in a 3000km journey to Adelaide aboard a train named to honour Afghan camel handlers.
The Ghan is no stranger: it has been around for 80 years now, although it extended the full distance top-to-bottom only fairly recently.
The crossing is one of the world's great train journeys, and even before the luxury of the present Ghan the trip from Adelaide to Alice was the stuff of legend, tracing the paths of the camel teams that opened the interior.
We had heard plenty of stories.
In Alice Springs we were to hear another, from Chris Collins, the laconic chopper pilot who now runs Australian National Helicopters from the town's airport.
Collins rode the old Ghan to Alice in the 1970s, groaning across the desert at a walking pace that had a full load of passengers drinking the bar dry and rapidly going stir-crazy. They cleared out a carriage, shoved a piano against the wall, and turned it into an indoor cricket pitch.
Every now and again, Collins said, the ball would fly through an open window and bounce into the vast, dehydrated outback. A fielder would leap off, chase the ball down, and race to jump back on the train.
"Sometimes the train would speed up, and the bloke would have to run like hell to catch another carriage behind," he said.
No such shenanigans for us.
We are not only travelling on the new, sleek, 80-odd km/h Ghan, but riding Platinum, a thoroughly posh new class that boasts cabins almost twice the size of those of the previous acme of Gold Service, with en suite, double bed and service to match.
I feel a passing regret that I did not bring a white dinner jacket and cigarette holder.
We are greeted and escorted to our cabins at 8am Saturday morning by Damien, an inveterate traveller who has just returned after years of escorting tour parties around Europe.
Erin brings us champagne and strawberries, scones and cream and a bowl of fruit to help us adjust to our surroundings: the mellow gleam of Tasmanian myrtle panels, a vast panoramic window, pile carpet, and welcoming lounge chairs that by night become a double bed.
There is a foldaway writing desk, a coffee table with leather ottomans tucked beneath, a built-in robe and an en suite with full shower and a stack of towels and toiletries.
If we get bored, we are told, there are games and other diversions we can order simply by summoning the stewards. They can also bring us food and wine, 24 hours a day.
You could die happy here.
We sigh, settle back and sip as the train slides out of Darwin, gliding (only the muted clack, clack rhythm of rails) past low, lush tropical bush and huge termite mounds, which would stalk us for much of the journey.
Abandoned wartime airstrips line the tracks. As we progress towards Katherine, our first stop, the country transforms from tropics to the sparse vegetation and open plateau of the outback, and lunch is served: a choice of ploughman's platter of Barossa chicken, citrus and thyme terrine, pickled eggs and cheddar; or caramelised onion and goat cheese tart, and smoked trout and baby chard salad.
They cook this with a hard-working team of chefs and serve it in the regal Queen Adelaide restaurant carriage, where Hercule Poirot would not feel out of place.
Between now and Adelaide, we will be feted with menus that run from Coorong mullet and saltwater barramundi to grilled kangaroo fillet, plus a mean selection of cheese and wine.
The four-hour layover at Katherine allows tours of the ancient gorge, walks, canoeing and helicopter rides. At Alice Springs there are chopper rides, wildlife and historic tours, and quad bike rides through the bush. Bookings are taken on the train.
We return from a cruise down the gorge to iced tea, served from white linen by Damien and crew boss Sonya, shaded by red and white umbrellas.
That night we chat with other travellers and watch the sun vanish in a brilliant explosion of desert red. We sleep like babes.
Morning, and tea served in bed as the sun rises on an extraordinary and constantly changing panorama that until we hit the vivid greens of farmland near Adelaide will astonish with its stark beauty: spinifex, saltbush and mulga, surviving God knows how, ochre plains reaching to a distant line of mesas broken by the pike of Chamber's Pillar, the wide emptiness of the Finke River, and the rich blues and searing white of salt lakes.
Near Katherine we watch giant wedge-tailed eagles, soaring in wide circles as they rise in thermals, hunting for prey.
Closer to Adelaide, we see emus and kangaroos - not many, and certainly not the numbers and variety of wildlife we had expected, but exciting in their isolation and sudden speed.
Sunday morning, as crops and the vines of the Clare Valley slip past the window and Adelaide nears, it is time to again begin caring what the poor people are doing.
For a while the Ghan made it just too easy to forget.
CHECKLIST
All aboard: Adelaide-Darwin trains depart on Sundays and Wednesdays, arriving on Tuesdays and Fridays. Darwin-Adelaide trains depart on Wednesdays and Saturdays, arriving on Fridays and Mondays.
Further information: See the Great Southern Railways website.
Greg Ansley rode The Ghan courtesy of Great Southern Railways and visited the Barossa courtesy of the South Australian Government.