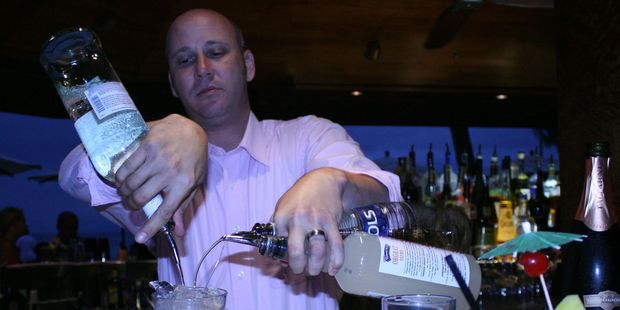 Here we are, sitting at a cocktail bar on Waikiki Beach, watching the Hawaiian sun set over Diamond Head, so what do you suppose we should have to drink? A mai tai of course.
Ah, but which mai tai? There are dozens of different kinds. And contrary to what you might think, the mai tai wasn't invented in Hawaii but in 1944 in Oakland, California, by - depending on who you believe - Vic Bergeron of Trader Vic's, or Don Beach of the Beachcomber, and neither of the original versions included pineapple.
So how come the mai tai has practically become Hawaii's national cocktail? And, like I said, what kind should we order?
As luck would have it, there's no more appropriate place to ask those questions than where we're sitting, the Mai Tai bar of the magnificent old Royal Hawaiian Hotel, the very place where Vic Bergeron later developed the modern pineapple-flavoured mai tai.
And there's no better person to provide answers than the hotel's beverage manager Joey Gottesman - he prefers to be called "bar chef" - who has spent 27 years making cocktails.
Getting his priorities right, Joey answers the second question first, and reckons we should start with an original mai tai made to the Bergeron recipe: Jamaican rum, fresh lime juice, orange curacao, sugar syrup and almond-flavoured orgeat with plenty of ice.
Rolling his sleeves up, he goes to work, squeezing a lime - "the key to all of this is using fresh ingredients, not stuff out of a can or a packet" - shaking to produce a rough mix, pouring the rum last as a float, then adding the obligatory cherry, slice of pineapple and a paper umbrella "which makes the drink taste so much better".
It looks great and tastes wonderful. The perfect drink to savour while listening to the gentle rumble of the Waikiki surf, watching romantic couples stroll the sand hand-in-hand as the sun slowly disappears, and pondering the great questions of life - like who did invent the mai tai?
The name is said to have originated when Bergeron gave the first one he made to two friends from Tahiti who took one sip and said, "Mai tai roa ae" or "fabulous".
While we are enjoying its mix of flavours, Joey speculates that the reason the mai tai drink caught on in Hawaii was a combination of having an easy-to-remember Polynesian name and being easy to make as well as tasty.
But, he adds, it was also because at this very bar in 1953 Bergeron developed a new recipe - "smoother, sweeter and easier to drink" - which is the basis of what we now think of as a mai tai.
That drink, which the Royal Hawaiian calls "the scratch mai tai", is the next drink Joey makes: fresh pineapple and orange juice, orange curacao, bacardi, orgeat and a float of Whaler's dark rum. Mmm. The orange-pineapple mix gives it a tropical flavour and it's certainly easy to drink, but I can already feel the effects of the alcohol.
"Yes, they can be a bit of a trap," Joey agrees. "But just remember that in the original recipe the alcohol content would be more than twice as strong. But the law in Hawaii limits the alcohol content so we can't give you the full punch in the face."
Next up is the garden mai tai, a recipe invented by Joey, intended to be "a more feminine drink": alize rose, orgeat, Appleton rum, Coruba dark rum, pineapple and orange juice, and sparkling rose. My wife adores it.
Then follows the bar's top-of-the-line cocktail, the royal mai tai, conceived by Joey as a tribute to the Royal Hawaiian Hotel: pineapple and orange juice, cherry-vanilla puree, bacardi, cointreau and amaretto di disaronno liqueur topped with Whaler's dark rum. Superb.
Finally we get to the last mai tai on the bar's menu, mai tai generes, invented by Joey for actress and comedienne Ellen DeGeneres and, he boasts proudly, "mentioned on her show": Domaine de Canton ginger liqueur, bacardi, orange and pineapple juice, topped with Whaler's rum. It's very different, with an amazing ginger flavour which I love, but by now all the mai tais are starting to blur together in an alcoholic haze.
So what, I ask Joey, while I'm still able to get my tongue round the words, is his favourite? "My favourite drink?" he laughs. "I'd leave out the liqueurs and the rums and the juice and put a shot of Jack Daniels on ice."
Then, naturally enough, he wants to know which one I enjoyed the most. Definitely the original version made with lime juice. I liked the bite. The others were too sweet. Then, finally, before staggering off to rest, I ask Joey the big question: who really did invent the mai tai? Vic Bergeron or Don Beach?
"Ah. Actually, from things I've been told, I believe it was Don Beach. But," he adds diplomatically, "it was definitely Vic Bergeron who made the Hawaiian mai tai right here at this bar. So, really, they both deserve the credit."
CHECKLIST
Getting there: Air New Zealand flies direct to Honolulu up to three times per week.
Where to stay: The Royal Hawaiian Hotel is the second oldest hotel in Waikiki and sits right on the beach.
What to do: The Mai Tai bar is right on Waikiki Beach.
Further information: See
discoverhawaii.co.nz.
Jim Eagles visited Hawaii as a guest of Air New Zealand and Hawaii Tourism Oceania.