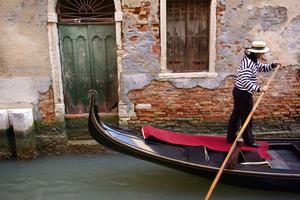 New Zealand tourists are among the fiscally tightest travellers in the world, a survey of 4500 hotels suggests.
In the second annual Best Tourist study, conducted by online travel company Expedia, New Zealanders were found to be the sixth most "fiscally conservative" travellers, out of the 27 nationalities, as ranked by hoteliers across the world.
Overall, hoteliers named the Japanese as the world's best tourists, ranked in first place for quietness, politeness and those least likely to complain.
The British were the second best tourists, followed by the Canadians. New Zealanders came in 14th overall.
The French were regarded as the worst tourists, rated the most frugal and the least polite.
Compared with Australians, New Zealanders were less likely to attempt the local language - in 14th place - or to tip - in 19th place.
Australians were ranked fifth in both categories.
Expedia New Zealand's Louise Crompton advised tourists travelling overseas to be mindful of the local practices to avoid offending to the locals and, at minimum, to learn basic local vocabulary, like "hello", "goodbye", "please" and "thank you".
She also said tourists could be more environmentally conscious, especially by taking shorter showers.
Overall tourist rankings
1. Japanese
2. British
3. Canadians
4. Germans
5. Swiss
6= Dutch
6= Australians
8= Swedish
8= Americans
10= Danes
10= Norwegians
10= Finnish
10= Belgians
14= Austrian
14= New Zealanders
16. Thais
17= Portuguese
17= Czechs
19= Italians
19= Irish
19= Brazilians
22= Polish
22= South Africans
24= Turkish
24= Greeks
26. Spanish
27. French
- NZPA, NZ HERALD STAFF