Graham Reid visits the former home of a music legend.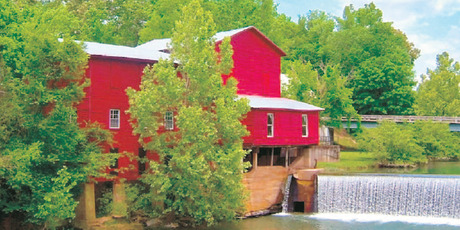 The ugliest baby I've ever seen - a pug-faced killer-midget with malevolent eyes - was at Loretta Lynn's place. Then again, there was plenty of ugly, kitschy, evil and just plain tacky stuff at the home of this country music legend.
But I'll be forgiving, and say that maybe the baby just looked bad in comparison with the beautiful setting of Hurricane Mills, the property Lynn bought in the late 1960s and which included a working mill beside a pretty lake, and rolling fields in the lush landscapes of east Tennessee, about an hour from the capital of country music, Nashville.
We had been driving to Nashville on Interstate 40 when a sign loomed up on the highway ahead: Loretta Lynn Dude Ranch. We pulled off the highway and drove to a restaurant and store on a hill above the side road where her name was bannered large above the entrance.
Lynn - who made her name with earthy and honest songs such as Don't Come Home A Drinkin (With Lovin On Your Mind), The Other Woman, and Who's Gonna Take The Garbage Out - is a country star of the old kind. Her story of rags-to-riches has been told in her autobiographical songs and two volumes of her life story (Coal Miner's Daughter and the repetitive sequel Still Woman Enough).
She sang of cheatin' husbands, bein' poor but still havin' dignity, of belief in God when the world done you wrong, and of lost love. Lynn knew all these things from bitter experience.
While buying a recipe book of her downhome cooking (You Ain't Woman Enough Casserole included) the girl behind the counter said Lynn's home was "just down the road apiece, if y'all is innerested".
That was the dude ranch, this was just the merchandise store.
We drove through fragrant countryside lined with wildflowers, crossed Duck River (where Lynn's son Jack drowned in 1984) and the road narrowed through a beautiful forest. Down a broad driveway on our left was Hurricane Mills, a small town with the original post office, a few other buildings and the mill and wheel beside a flat pond.
It was as pretty as a picture, as they say around here, and facing it across the river was the white columned house which Loretta and her husband, Doolittle, moved into in 1967.
In Coal Miner's Daughter Lynn says that when she first saw the three-storey mansion she thought it was like Tara in the movie Gone With The Wind.
It looked like a hillbilly's dream.
Lynn - and Doo, who died in 1996 - moved out in the late 1970s after fans just kept turning up at the door (some tempting boozy Doo off for drinks). But the house has been kept as it was when they lived there.
Lynn's early life was tough. She grew up in remote Butcher Holler in Kentucky where the family's single-room handmade cabin was wallpapered with pages from magazines. She wore flour sacks as a child and slept on the floor until she was 9; and her father worked in the mine.
On the day of her wedding - aged 14 - in the courthouse she needed to go to the toilet so Doo took her to the bus station. She'd never seen indoor plumbing and was terrified by the flushing.
Doo called her a stupid hillbilly - and Lynn admits she was. She had no idea how babies were made and had four children by the time she was 18.
Ernest Tubb, the country legend who helped her career in the early 1960s, said she was the only person he'd met - and he'd met 'em all - who didn't change after she became famous.
At Hurricane Mills there is a museum filled with her dresses, concert posters, memorabilia and her old tour bus. Over the years, as Lynn became wealthy, the couple added to Hurricane Mills. She built a replica of the house she grew up in on a hill above the town so her fans could see what her early life had been like. The day we dropped by there we were a dozen other visitors to Hurricane Mills, among them a couple who - and I dislike myself for making this observation - could have been siblings and had two unusual looking children with them.
The man was ill-shaven and wore ragged denim overalls, and the woman a baggy hand-me-down dress.
They gazed in awe at the hideous Indian kitsch (Loretta was proud of her Cherokee heritage) and the cabinets Doo built to house her collection of salt and pepper shakers and suchlike.
They became reverently silent at the sight of her gold and platinum discs in the stairwell, and in the garden took dozens of photos of the hideous job-lot statuary.
These people - worshippers in the church of country music - were Loretta's true fans and the people who gave her the career she has had. And she never forgot it.
Hurricane Mills has trail rides, camping grounds, fishing holes and regular concerts.
I could only be cynical at the reconstruction of the mine her daddy worked in - it was kinda dark and scary in there though - but was impressed by the ebb and flow of her career as outlined in the extensive museum of her memorabilia.
A few years ago, at 69, Lynn released an album with Jack White of the White Stripes. People who'd previously never heard a note she'd sung suddenly confessed to being long-time closet fans.
But it was a reminder of just what a tiny footnote in her long career that association had been when I spotted two posters of concerts with White stacked in a corner near the toilets. But she had kept them, just as she kept and displayed the gifts from fans.
Beside the shop was her doll museum.
And that is where I saw the ugly baby, in a glass case beside the Native American dolls, those in chintzy wedding gowns, or dressed as cowgirls in gingham.
Awful stuff, all of it.
The ugly baby was on its hands and knees, its oddly distorted face twisted into something between a snarl, a grimace and a plea for help. Its pinched eyes were almost satanic and, most curious of all, its nappies were pulled down to reveal a round bottom raised in the air.
It looked... well, creepy actually. And not a little perverted.
I'm sure that other couple and their kids will never forget the day they went to Loretta Lynn's place. Nor will I. But it will be for entirely different reasons.
By Graham Reid

Email

Graham