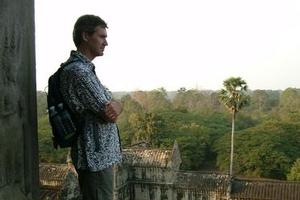 Twenty years ago two young Aussies sat round a campfire in Africa, sucking on bottles of beer, and came up with an idea that helped change the face of travel.
The two had done a good deal of independent backpacking and gone on a few organised tours. Both formats, they reckoned, had their advantages and disadvantages.
Backpacking was fun, flexible, cheap and got really close to the local culture but it was time-inefficient because backpackers inevitably lacked local knowledge and even the best guidebooks were always out of date.
Organised tours, on the other hand, were efficient but tended to be too expensive, inflexible and often actually removed travellers from the destination they were there to experience.
Darrell Wade, who was one of those young blokes, recalls that he and his mate Geoff Manchester concluded over their few beers that "small groups travelling locally would be the perfect solution".
As a result they founded Intrepid Travel which, exactly 20 years ago this week, ran its first trip to Northern Thailand.
Clearly they were on the right track because these days Intrepid takes around 70,000 passengers to more than 100 countries each year and has close to 1000 employees worldwide.
At the time, says Wade, the travel industry seemed to focus on getting people to countries but made little effort to actually show them anything of the local culture. "There was no adventure product on the market that was affordable. It was either really expensive or highly physically adventurous (like white water rafting, climbing mountains, etc.). There wasn't anything that was affordable for the culturally adventurous."
In the 20 years since then, the advent of Intrepid and other like-minded companies has helped promote a huge change in the way we travel.
As Wade puts it, "When travelling, people are more demanding than in the past. They are no longer content to sit by a pool or sit in a coach. They want to get out and talk to people, experience things and revel in different cultures."
Of course that in itself has created new challenges, making it harder for companies to find places that seem off the beaten track and avoid manufactured tourist experiences.
That, Wade concedes, is going to be the biggest challenge facing the company over the next 20 years. "But it's a challenge we look forward to. We love the constant challenge of surprising and exciting travellers."
But, he says, "the basic premise of getting under the skin of a destination remains solid. If anything, our philosophy resonates with travellers better today than it ever has."
That's good news because, to my mind, the whole point of travel is to get an understanding of other cultures, other countries and other landscapes. Otherwise why bother?
Pictured above: Darrell Wade, co-founder of Intrepid Travel, at Angkor Wat in Cambodia.
Jim Eagles