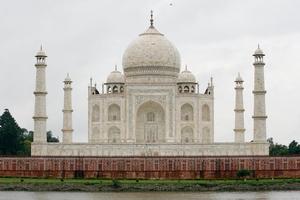 You may have noticed a bit of controversy recently over plans by officials in the Indian state of Uttar Pradesh to tart up the Taj Mahal in a bid to attract even more tourists.
They apparently think the world's most famous monument to love would be greatly improved if the ethereal beauty of its white marble domes and minarets was augmented with a giant ferris wheel, ropewalks, cable cars and a suspension bridge.
Good thinking. Makes you wonder why the Mogul Emperor Shah Jahan didn't include a giant ferris wheel back in 1632 when he set 20,000 craftsmen working for 22 years to create the perfect monument to his beloved wife Mumtaz. Not.
But then, when you think about it, crass development at places of great beauty is scarcely something new.
It never ceases to astonish me how many beautiful landscapes have motorways running through the middle, how many glorious cathedrals and temples have their foundations surrounded by rows of cars and their steeples circled by crowns of telephone wires, and how many stunning seascapes are blighted by ugly buildings or insensitive subdivisions.
The Taj Mahal itself may be protected by a court-imposed 500m conservation zone but when I was last there a few years back the approach was a squalid mess of tatty stalls, ramshackle barricades, intrusive security structures and windblown rubbish. Could a ferris wheel really be any worse?
And in one respect, at least, the plans should be applauded: that is the idea of putting a ropewalk across the Jamuna River to the Mehtab Bagh, or Moon Garden, where Jahan planned to build a mirror-image of the Taj in black marble as his own tomb.
This never happened, because he was overthrown by his son, but the foundations of the tomb are still there and the gardens are being restored in accord with the original plans.
It's a wonderful place from which to view the Taj, and to contemplate the sad end to the great Shah's magnificent vision, but I didn't find it easy to get there (it involved a hefty bribe to my driver, a long drive through narrow slum streets and then a tricky crawl through a barbed wire fence).
Being able to stroll across a footbridge to the other side of the river would be a real bonus for tourists and might indeed boost visitor numbers.
It might also provide a pointer to officials elsewhere that the best way to promote the wonders of the ancient world is to keep the modern world at bay.
- Jim Eagles
Pictured above: A ferris wheel certainly wasn't part of the original plans for the Taj Mahal, which took 20,000 craftsmen 22 years to create. Photo / Greg Bowker