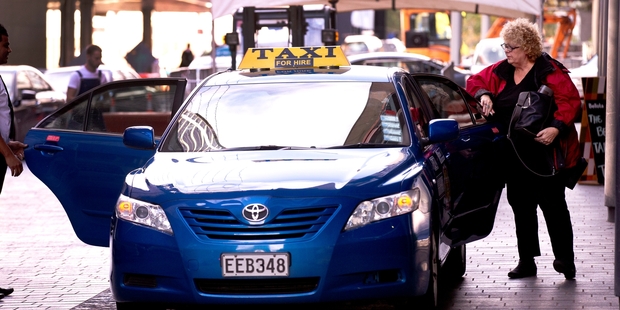 Four Herald staff caught cabs from Auckland Airport's international terminal to SkyCity yesterday, so we could compare their routes and what they were charged.
We have been campaigning for fairer taxi fares after international travel company CheapFlights compared the cost of catching a cab to the city in 24 locations around the world. The cost in Auckland was the third highest.
Audrey Young: Dial-a-cab
I walked past Regency, VIP, and Corporate Cabs to the cab that sounded the cheapest, Dial-A-Cab.
We left the airport about 3.25pm and arrived at the SkyCity Grand at 3.55pm. Unprompted, we took the old route, off at Queenstown Rd, Pah Rd, The Drive, Gillies Ave, motorway, off at Nelson St, right into Wellesley and left into Federal St. The traffic was moderate - a little delay just past the Mangere Bridge and another trying to move down Federal St. The $90 fare included the $5 airport fee but the driver, Ahir, said he had waived a $3 credit card fee because we had been delayed by roadworks in Federal St.
In Wellington, cabs charge similar amounts for eftpos transactions, even though the fare is paid like cash, instantly from the customer to the cab company. The eftpos fee is more like a tax.
When it comes to cab fares, timing is critical.
On Monday this week a cab fare from Wellington airport, about a third of the distance of yesterday's airport run, cost $81.40 with Wellington Taxis, and we sat in traffic for much of the ride. The $90 fee into Auckland yesterday is about what I usually pay for a cab into the city at off-peak hours.
Ahir said Dial-A-Cab was based in Onehunga and it was the same cab firm as VIP. The electronic receipt for the $90 cab fare said Reliable Cabs Ltd.
Steve Deane: Co-op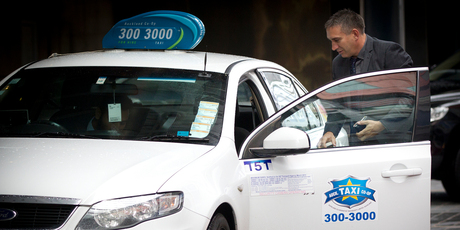 Punjabi Co-Op cab driver Major Singh Gill has been waiting 150 minutes for a fare at the international terminal by the time I pitch up, attempting to negotiate a fixed price into the city. Major is taking a break from standing outside his cab in the miserable weather, attempting to make eye contact with potential customers, so I talk to his friend and fellow Co-Op driver. He says no to a fixed fare, but agrees to put me on tariff two ($2.47 a kilometre instead of $2.60), which he estimates will get me to town for $65 to $70. "Go with those guys and it will cost you $99," he says, motioning to a Black Cab.
Major is happy to talk cab prices. The $198 fare from the airport to Albany highlighted in a recent Herald story isn't unreasonable, he says. The standard fare would be around $130, and it wouldn't take much traffic to bump it up. Traffic leaving the airport is crawling, despite it being 10.30am. It takes 10 minutes to travel the few hundred metres to the roundabout at John Coulter Drive, where workers trimming roadside bushes are causing the snarl-up. The meter is already at $13.60.
Major's day started at 6am and will finish around 7pm. For a six-day, 70-hour week he'll pull anywhere between $600 and $1000. He's got a history degree from an Indian university and a business diploma from his New Zealand studies, but he seems happy enough driving his cab. We take route 12 into the city (Manukau Rd), with the fare to SkyCity Grand coming in at $78.
Lincoln Tan: Black Cabs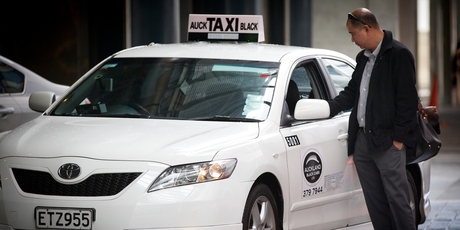 Black Cabs driver Nouman Mughal readily acknowledges his company has been "in the news" for charging nearly $200 for a ride from the airport to Albany when I say I had read about taxi fares here being among the most expensive in the world.
Despite me posing as an Asian businessman who speaks limited English, Nouman was eager to chat about his job as a cabbie.
"Don't believe everything you read in the news. It's hard work and it's actually the airport that's making all the money," he said.
Nouman, originally from Pakistan and living in Manurewa with a young family, said he had to fork out $10,000 annually for the right to wait at the airport taxi ranks, where it would take about three hours for him to get a fare. Yesterday, because of some flight delays, he had been waiting since 4.30am before he got me as his first passenger, at about 9.45am.
Traffic heading out of the airport was crawling and by the time we reached John Coulter Drive, the meter was already showing $17.40.
Nouman admitted the $3.50 per km rate his company charges isn't the cheapest and that with heavy traffic, it would be easy for the fare to hit $200 for a trip to the North Shore.
He spoke of the dangers associated with driving a taxi and mentioned that a cabbie was stabbed to death by a Chinese student a few years back.
"That's why we all have security cameras installed now."
We take Manukau Rd before turning to Alpers Ave to join the motorway into the city. The fare to the SkyCity Grand came to $95.
Claire Trevett: Goldline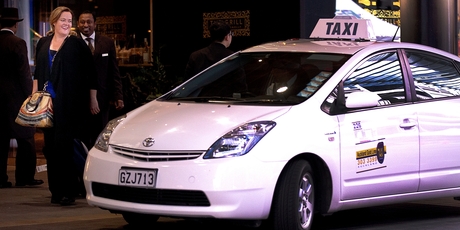 After walking up and down the rank looking for a Green Cab, Nahal from Goldline with his Prius and a Corporate Cab driver with a more gutsy model both gave "come hither" gestures towards their doors. Nahal told me Green Cabs didn't have a rank at the international terminal, so I hopped in while Corporate Cab guy shrugged.
I've had chatty cab drivers before. One recently regaled me with tales of his necrotising encephalitis at great length. So I had a complex story worked out as to where I had flown in from and where I was going. Not Nahal. He didn't mention politics, nor the taxi vs airport wars.
He politely waited for me to start a conversation, offered to turn on the air con when I said it was hot and ran through the pros and cons of a Prius when I asked. I feigned ignorance about Auckland geography ("oh, so this is the famous Epsom!" and asking about the Grammar zone) to see if he would be tempted into a longer route, but he took the Highway 12 route - up Pah Rd - as well as the less congested shortcut up Selwyn Rd and The Drive.
The highlight came at a set of traffic lights when a man in a blue van decided to try to burn Nahal off on the inside as the lanes merged. Nahal stood his ground for a bit, before clearly deciding there were better ways to go than via a man in a Hiace van.
When I laughed and asked if he'd wished he was in a Falcon rather than a Prius, he tried to assure me the Prius would have had the oomph to burn off a Hiace, had he wanted it to. The trip took 31 minutes, and came in at $81.80 including $3 for using a credit card and $7 for hiring from the airport.