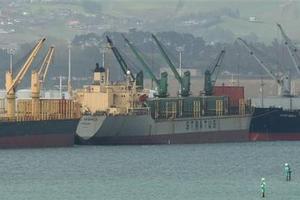 Port of Tauranga is paying $15 million for all of Tapper Transport, with the main aim of increasing business through the port's inland Auckland facility MetroPort.
The agreement includes a two-year earn out provision, with a maximum payment of $4m.
The announcement comes a day after the death of Tapper Transport director Simon Tapper who, the announcement said, regarded the deal as perfect closure for a career in the freight business that he was so passionate about.
Port of Tauranga chief executive Mark Cairns said the primary objective of the acquisition was to expand the business through MetroPort.
It would enable the port to further develop MetroPort as an integrated freight centre and distribution hub, said Cairns.
Tapper Transport's operations are next to MetroPort at Southdown. Among its activities is wharf cartage and it carries about 90,000 twenty-foot equivalent units of import and export containers annually.
Tapper's container freight station is Ministry of Agriculture and Forestry-approved and Customs-bonded and is used to unpack about 12,000 TEUs (twenty-foot equivalent units) of import cargo annually. It is also used to pack about 3000 TEUs of export cargo annually.
- NZPA