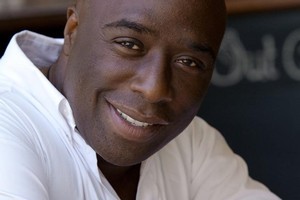 Before there was television, and shows like the African-American sketch comedy series In Living Color, and before there were movie stars like Eddie Murphy, there was the African-American vaudeville superstar Irving Sayles.
In the late 19th century, Sayles was a transtasman sensation who could pull a crowd of 5000 in just one night with his ribald and self-deprecating humour. His star blazed brightly for a few decades, but dimmed quickly after his sudden death in Christchurch, nearly 98 years ago to the day, on February 8, 1914. Aged just 42, Sayles dropped dead from a heart attack and was buried in Linwood Cemetery.
That troupes of black American entertainers, known as minstrels, toured these parts - and a good number, like Sayles, never returned home, preferring to stay here - is an all but forgotten chapter in our cultural history.
Now, thanks to New York actor Jonathan Council and local playwright Arthur Meek, Sayles' star is about to shine again.
Council, a regular visitor to New Zealand, was so impressed by Meek's show Collapsing Creation, about Charles Darwin, that he emailed the young playwright after seeing a performance in Wellington, saying he had an incredible story that could travel the world.
"I get sucked in by Americans 'cos they're so bloody optimistic," says Meek. "Then Jonathan introduced me to Irving Sayles and the character leapt out at me. A talented black man on the bones of his arse flees the prejudice of his homeland and washes up in Australasia? Interesting - becomes rich and famous beyond his wildest dreams? Fantastic - dies on-stage of an oversized heart? Dramatic - won his fame and freedom by performing self-denigrating racist humour? Eek!
"What a cool and complex character. Heaps to chew on and a nice way to look at the things modern people are prepared to do to themselves to be 'successful'."
Meek has developed a knack for taking stories and characters from the past and using them to examine contemporary concerns.
"Usually I write and turn the script over to a director but Dark Stars is different. I've directed this one as well as writing it, because while we were working on the script I realised the staging was part of the writing too. It's like writing in 3D."
Dark Stars is a solo show which weaves together Council's own story with that of Sayles. Council describes it as funny but poignant and says that as a dramatic actor it has meant challenging himself to find his inner comedian and overcome a few of his own prejudices.
"I had to ask myself about what Sayles did because these types of characters continually debased black folk and we've been working for years to get away from those stereotypes and presentations.
"It's meant coming to grips with and accepting that's where he was at that time. I'm sure Irving Sayles must have had to deal with a lot as a black man from the United States who had to act the 'Sambo' character, to jump and to jive but, at the same time, he was earning a lot of money and made quite a name for himself."
Council learned about Sayles in New York when a film-maker friend, Davis Chachere, happened across a historic picture of the comedian and pointed out how much Council and Sayles looked alike.
Research revealed further similarities. Sayles arrived in Australia around 1888, aged just 16, with the Hicks Sawyer Minstrels, who entertained audiences with stereotypical sketches of black American culture. Once the Hicks Sawyer tour ended, Sayles stayed on.
Likewise, when Council sought his "big break" he travelled from the United States to Australia then on to New Zealand and Waiheke Island. He loves Waiheke so much he spends six months working in New York and six months unwinding on the island.
While friends in America wanted him to premiere Dark Stars in New York, Council says it felt right to launch here. After performances on Waiheke in December, Dark Stars plays in Auckland and Wellington before travelling to Adelaide, the Edinburgh Fringe Festival, then New York.
"I know it sounds corny but this country has given me so much, I wanted to give something back - and the New Zealand connection to Sayles is strong."
Performance
What: Dark Stars
Where & When: Basement Theatre, February 10 & 11 at 7pm