Yet another incarnation of the Barnaby Weir-led musical supergroup Fly My Pretties returns for its fourth tour of duty around New Zealand. Lydia Jenkin was at their first show in Dunedin.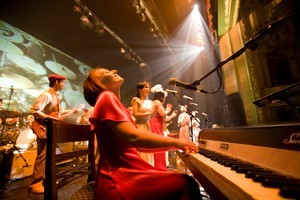 There's an air of anticipation in the darkness at the Regent Theatre in Dunedin on Saturday afternoon, the kind of atmosphere that you might find backstage prior to a college musical, all bright eyes and nervous excitement.
Except that in this case it's coming from a group of roughly 80 people - professional musicians, sound guys, camera crew, lighting directors, visual artists, and guitar techs. They're all buzzing around, working out the many complex facets of the multi-media extravaganza that is Fly My Pretties IV.
Guitars are being swapped, vocal cords warmed up, and lyrics confirmed. It's the first night of the new tour, after a week's rehearsals in Wellington where the cast of 16 - nine from previous incarnations and seven newbies - have assembled to come up with two and a half hours of music for the new show.
First nights are always a little nerve-racking - more so with Fly My Pretties which has always had a "seat of the pants" element.
But the cast involved here are all freakishly talented, and there is as much laughter as there is serious concentration.
As the songs are ticked off, the cast relax backstage.
The girls get dolled up in their dressing room, hair and makeup matched with beautiful individual outfits by Auckland designer Cybele.
Anna Coddington is attempting to tame fellow singer Aaron Tokona's long tresses with a hair straightener as the rest of the gents potter around next door, strumming guitars and tapping drumsticks as they too gear up in some flash threads (from Wellington label MisteR).
They're one good-looking cast all dressed up, and the aesthetic element of the shows has played a part in their popularity. Combined with nuanced lighting and backdrops designed by Flox (Auckland artist Hayley King) and then animated to interact with the audience, they create a spectacular visual feast that plays to the strengths of the historic theatre.
It has to be one of the more genius ideas of the local music industry in the past decade, and has gone from being a single-city experiment to an iconic and much-loved series of nationwide shows, albums and DVDs.
In 2004 Barnaby Weir, frontman for The Black Seeds, invited a bunch of musician friends to join him on stage at Wellington's Bats Theatre. It was to be a musical supergroup and mixed media show, and they would record a live album of collaborative tracks. Naming it Fly My Pretties proved prescient, as fly is exactly what it did. The album, Live at Bats, went on to be certified platinum and spawned several tracks that have become Kiwi favourites.
It wasn't just the songs that crowds were raving about, it was the whole package. It was such a success that Weir expanded the cast to create Fly My Pretties: The Return in 2006 and took the show to a whole new theatrical level in 2009 with Fly My Pretties: A Story.
In this year's Fly My Pretties IV, the first act is made up of songs which each of the cast have brought to the group for new interpretations, some of which have been written for the tour, and some of which are favourites of the individual musicians. The second act is made up of classic FMP favourites from the past three incarnations.
"It's a luxury to have so much material to choose from," says Weir. "The original idea of Fly My Pretties is still the same in that it is an eclectic showcase of different talent from different bands, who are all on their own pathways coming together for a one-off show. That's still key for me and the main reason why people come to see it - sure they might want to hear Singing in My Soul and some of the older familiar songs, but songs only become familiar once they're out, so in two years I guarantee that some of the new songs will be classics and people will be singing along to them."
A great part of the pleasure of a FMP show is its otherwise unlikely collaborations - like folk singer Amiria Grenell playing with Wellingtonian psychedelic blues swamp rock trio The Nudge, or Eva Prowse lending a gorgeous violin line to a track by Fran Kora.
"Why not have someone quite folky like Amiria or Flip Grater playing on a heavy rock track with Aaron Tokona? It makes sense to me, and it's great to mash it up in that way," Weir says.
Though the Regent Theatre seats more than 1500, the moment the cast take the stage they draw the audience in, interacting with jokes, questions, song explanations and gestures, which gets a great crowd response.
"I think the intimacy is still there if the artists talk to the crowd and have a few jokes, and things are just relaxed. You still get that atmosphere. It's great for the audience to be able to meet different characters in the band."
There appears to be a bit of a family vibe among the musicians. There's no room for egos on a stage like this, but the individuals all get their chance to shine. The show has that electric X-factor you only get when the people on stage trust each other and are inspired by each other.
It's a great balance of styles and genres, flowing seamlessly between folk, rock, blues and funk, both delicate and pounding, and allows the musicians to break out of their usual moulds.
Coddington and fellow songstress L.A. Mitchell get to show off their vocal talents (and some exceptional dancing) with some groovy R&B-styled vocals on two of Mitchell's tracks. Coddington also displays her drumming skills, shares rock guitar licks with Tokona, and shakes a pineapple.
Ryan Prebble's rumbling voice gets centre stage on his track Hit the Hay, supported by an epic keys solo from Nigel Patterson. Prowse's charmingly quirky Space Cadet is a cosmic ride, and Age Pryor gathers the six male vocalists in the cast for a stunning rendition of Singing in My Soul. By the time Weir breaks into Bag of Money most of the audience are dancing in the aisles and on speaker stacks in rapture. And that was only the first performance.
FLY MY PRETTIES IV - THE CAST
Aaron Tokona from Christchurch, Weta, Ahoribuzz, Cairo Knife Fight; guitar and vocals
Age Pryor from Wellington, solo artist and Wellington International Ukulele Orchestra; multi-instrumentalist and vocals
Amiria Grenell from Christchurch, solo artist; guitar and vocals
Anna Coddington from Auckland, solo artist and Eru Dangerspiel Band; vocals, guitar and percussion
Barnaby Weir from Wellington, The Black Seeds and solo artist; guitar and vocals
Eva Prowse from Wellington, solo artist; vocals, violin, mandolin and guitar
Flip Grater from Christchurch, solo artist; vocals and guitar
Fran Kora from Whakatane, Kora; bass and vocals
Iraia Whakamoe from Wellington, The Nudge; drums
James Coyle from Wellington, The Nudge; keys and organ
Jarney Murphy from Wellington, The Black Keys; drums
Justin "Firefly" Clarke from Wellington, solo artist and The Woolshed Sessions; guitar, mandolin, ukulele and vocals
L.A. Mitchell from Christchurch, solo artist, The Dukes and Dave Dobbyn Band; vocals, keys
Mike Fabulous from Wellington, Lord Echo, The Black Seeds and Fabulous Arabia; guitar, bass
Nigel Patterson from Wellington, The Black Keys, The Mantarays; keys
Ryan Prebble from Wellington, The Nudge and Spartacus R; guitar, vocals, bass
LOWDOWN
What: Fly My Pretties IV, new multi-media show
Who: Cast of 16 musicians plus visual artist Flox
Where and when: At the Mercury Theatre in Auckland on November 10, 11 and 12, and at the St James Theatre in Wellington on November 19.
- TimeOut