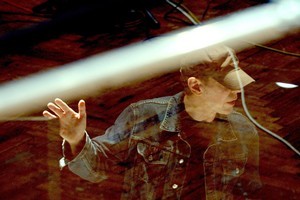 A woman, a telephone and one side of a conversation - sounds like the train journey to work? Not quite.
Instead, it was a situation of measureless dramatic potential for the great French author and artist Jean Cocteau, and the composer Francis Poulenc. The latter's one-act opera for one singer, La Voix Humaine, setting a monologue by Cocteau, is the proof.
This short, searing work forms half of an exceptional cross-genre evening, Cocteau Voices, which takes to the stage this month in the Linbury Studio of London's Royal Opera House.
The Poulenc opera is the second part of the performance; before the interval there's a new ROH commission, a dance work by Aletta Collins, also inspired by a Cocteau monologue, and set to music specially composed by Scott Walker.
Striking a balance between art forms, between intense emotion and a light Gallic touch and between four potentially very different audiences - for dance, opera, literature and Scott Walker - Collins and the director Tom Cairns, who tackles the Poulenc, have set out to share the challenge.
They first worked together on Cocteau's themes of abandonment and possession in the film The Human Voice; now they deepen the connection and move it on to the stage.
In the 1920s, Cocteau was mentor to the group of composers known as Les Six, which included Poulenc, helping to inspire groundbreaking ideas on the nature of French art.
But now his influence has virtually time-travelled. Walker, the legendary singer-songwriter whose recordings with the Walker Brothers first hit British pop charts back in the 1960s, is one of those maverick artists who are constantly reinventing themselves.
In the late 1960s he immersed himself in studying classical music, including Gregorian chant, which substantially affected his compositions afterwards; his kaleidoscopic musical imagination has continued to astonish, and in 2006 he was immortalised in film as 30th Century Man, a documentary by Stephen Kijak for which David Bowie was executive producer.
Collins first worked with Walker in 2008, when songs from his albums Drift and Tilt were presented at the Barbican as Drifting and Tilting: The Songs of Scott Walker.
"A great range of performers were involved, from Jarvis Cocker to Damon Albarn," Collins says. "I was asked to choreograph two songs - one was a solo dance and the other was part of a larger piece, Clara (Benito's Dream), about Clara Mussolini. It was just fantastic to get to know Scott through working on that project.
"Then, when Cocteau Voices came up 18 months later, Scott was the most exciting choice. It was a collaboration from the word go. The score he's written is absolutely amazing; though it's in no way related to the Poulenc piece, I think the scale, weight and emotional intensity balances it very strongly."
Duet for One Voice was inspired, says Collins, by an early draft of the 1932 monologue that eventually evolved into Le Bel Indifferent.
Cocteau created the latter for Edith Piaf and worked into it many of her own experiences. The earlier version, though, was a radio play, Lis Ton Journal ("Read Your Newspaper") written for Cocteau's male lover, Jean Marais.
In La Voix Humaine, the heroine has been dumped by her implicitly younger lover and speaks to him by telephone; we hear only her side as the opera traces her mental breakdown, the question remaining as to whether she ultimately takes her own life.
- INDEPENDENT