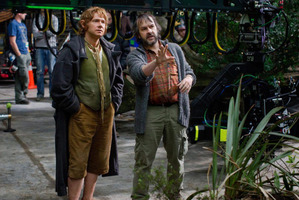 Hobbit fans were in for a treat yesterday as director Sir Peter Jackson showed off the second film in the trilogy.
A preview and behind-the-scenes look at The Hobbit: The Desolation of Smaug, hosted by Sir Peter himself, was shown for the first time online.
Only those who had purchased a copy of the first Hobbit film on DVD and Blu-ray - with a special code attached - were able to see the hour-long stream.
Dressed in green pants and wearing no shoes, Sir Peter took fans on a tour through the Hobbit world. The director is seen walking through post-production studios chatting to actors including Kiwis Jed Brophy and Manu Bennett, who play characters Nori and Azog, respectively.
Fans from around the world were also given the chance to ask Sir Peter questions about the second film.
Asked how he felt about the middle-part of the story, he said it was a less of challenge as there were multiple storylines now in play.
There was also the chance to develop characters, he said.
The Hobbit: The Desolation of Smaug is in cinemas on December 13. The third instalment of the series - The Hobbit: There and Back Again - will be released on July, 18, 2014.