Security intervened outside party as father and daughter talked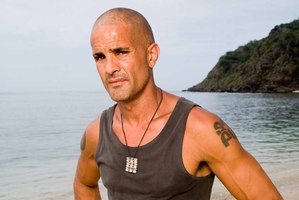 Matthew Ridge, who was ejected from an exclusive private party at a Viaduct venue on Thursday night after a run-in with his daughter Jaime, says he has been left with nerve damage in his arm from heavy-handed security guards.
Ridge and Jaime exchanged words at the Friends in High Places party, an annual event hosted by advertising billboard company APN Outdoor at Mantells on the Water. Ridge was asked to leave, but Jaime left too and followed him outside where the pair continued talking in the carpark.
Ridge, reluctant to comment, said security intervened unnecessarily out of the premises and left him with injuries he didn't deserve.
"Three bouncers came up behind me in the carpark and pushed me down on a car, then put me in a hold with my arm twisted right up my back," Ridge told The Diary.
"Now I have nerve damage in my arm. It's strapped up and I need physio treatment."
But Phil Clemas, general manager of APN Outdoor, who organised the party and didn't see the scuffle, is standing by the security team he hired. "We've used those guys for three years and they're very professional and very decent guys."
Malcolm back on the road
Six months are up and Robyn Malcolm is back behind the wheel. The Agent Anna star lost her licence after pleading guilty in the Auckland District Court to drink driving. "First day back driving," Malcolm tweeted on Thursday. "If you drink and drive you're a f**kn [sic] idiot."
Sorry twist to media beat-up
National Business Review publisher Todd Scott offered his abject apology to RadioLive's Duncan Garner on Monday for an online article his newspaper ran, bizarrely announcing: "Duncan Garner dead".
The gratuitous headline was made with regard to an error by the RadioLive newsroom last week, which raced to air with breaking news on the Supreme Court's decision over Mighty River Power - albeit the wrong one. Garner, on-air at the time, repeated the newsreader's mistake, but quickly amended it, doing all he could to correct the information he was initially given. Other political commentators slipped up too.
But is a public death notice warranted? Commentators reacted on Twitter describing it as "tasteless" and "a ridiculous click-bait". Scott evidently acknowledged his publication went too far and the offending article was removed. He did not return calls.
All Saints star brings acid tongue
She made her name as a member of girl group All Saints, but British pop star Melanie Blatt is set to play Ms Nasty in TV3's local show The X Factor. At the final auditions at SkyCity Theatre on Sunday, contestants found themselves on the receiving end of her bitter disappointment. Her pithy put-downs will be TV gold.
Blatt has the sultry looks of a young Bridgette Bardot, mixed with Anne Robinson's acid tongue and Anna Wintour's stylish-but-surly demeanour. She's cool as a cucumber on the judging panel, compared with Daniel Bedingfield, whose catty one-liners are more frenzied. Stan Walker is on cruise control, while Ruby Frost's saccharine comments are matched in syrupy temperament by her My Little Pony tresses.
Councillor pops question
Auckland Councillor Cameron Brewer, who turns 40 on Friday, proposed to girlfriend Kate Barry last week, and by all accounts it caught everyone off-guard - including the bride. Brewer dropped to one knee in front of friends and family at a Taranaki beach and whipped out a diamond solitaire ring.
Brewer, who has a daughter from a previous relationship, is yet to set a wedding date, but with elections in October, The Diary suspects he will be keen to present himself to the conservative voters of the Eastern Suburbs as a married man.
Glitz and glamour but crowds slim
The TV3 Derby Day at Ellerslie on Saturday drew significantly lower numbers this year; another casualty of recessionary spending. Empty marquees littered the lawn, evidently not drawing sponsor's dollars. However, numbers are expected to be up at the track today with punters celebrating Auckland Cup Day.
Champagne flowed at Gucci's private suite on Saturday where rich-listers James and Gilda Kirkpatrick rubbed shoulders with other VIP customers, including publishers Don and Debra Hope, heiress Petrea Vela and barrister Peter Spring, who nattered about his trips to a Caribbean tax haven.
Jaime Ridge was there, too, with her ubiquitous accessory: mum Sally. They posed for photos with little-known actors from off-peak local shows.
At the neighbouring TV3 marquee, salubrious board and network executives mingled with advertising clients.
Sports anchor Hamish McKay deliberated over a Mike McRoberts horse tip, and Julie Christie, who's tipped for a position on a new MediaWorks board, paraded high glamour millinery with her teenage daughter.
Litigator Linda plays ref
Former broadcaster Linda Clark, who works as a lawyer at Chapman Tripp, has been confirmed as the referee on TV3's monthly debate show The Vote.
She told The Diary the offer to join Guyon Espiner and her longtime friend Duncan Garner "was too tempting to resist".
"I spoke at Duncan's farewell at the Press Gallery because that's where we met. He began as an intern at TVNZ and I was his supervisor. We've stayed in touch ever since. I am never sure if he's my younger brother or third child!"
"Clarkie is my mentor, not my mother!" Garner retorted. "She scared me for seven years and I thought those days were over."