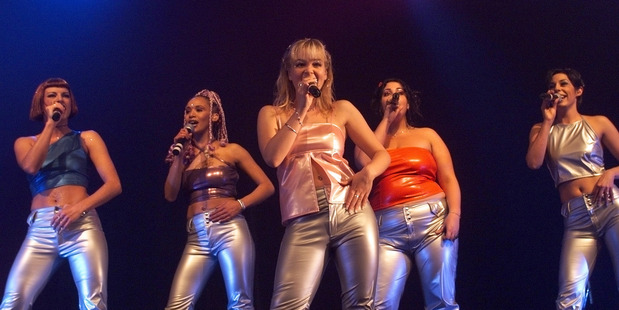 It was a comeback of sorts, but pop group TrueBliss were missing one prominent member when they performed at Trusts Stadium during the Northern Mystics match on Sunday night - Carly Binding.
"Yay, we're back together again," band member Megan Alatini tweeted in delight, but she didn't mention Binding's non-attendance.
The band - down from five members to four - have recorded a song to launch a campaign for the Child Cancer Foundation. They plan to release it as a single.
"I was keen to get back in the spotlight," Keri Harper said on Breakfast yesterday. "We've been talking about getting back together for years," Alatini added. "We love to prove we can still sing."
The foursome admitted motherhood was a big reason for reuniting 13 years after they first found fame on reality TV show Pop Stars. The cause is close to their hearts.
They wished Binding had agreed to join, too. "Erica [Takacs] and Joe [Cotton] made contact, but she had other commitments," Alatini said.
Binding told The Diary motherhood is her sole focus now. "I'm a mum to London [her 20-month-old son with partner Matthew Ridge]. But when I'm ready to go back to work, I'll release another record."
Binding forged her own career as a successful songwriting solo artist after leaving the pop group in 2000. The band continued without her for several months before breaking up. Binding feels it's only apt they pick up again as a foursome if resurrecting their music careers is the plan.
"Regardless of any personality issues that went on in the group, I do respect the girls and wish them luck," she told The Diary.
"I think it takes a lot of guts for the girls to do this. Good on them. I hope it makes them happy."
Binding's goals are different these days. "This time it's about personal fulfilment. I have a wonderful partner and a happy family. I'm not chasing an elusive dream," she said.
"It's taken a long time to not give a s*** what people think," she added.
Binding says if she could give her stepdaughter, Jaime Ridge, any advice as she forges her own reality television career it would be, "believe in yourself".
"As a female you face all sorts of confidence issues, and when you put yourself out on national television you have to put up with a lot of scrutinising and just be happy in yourself."
RYDER LIMBERS UPWITH VERBAL BLOWS
He's battling big-mouth Mark Watson in the boxing ring on Thursday, but former Black Cap Jesse Ryder lashed out verbally at fellow Radio Sport commentator Tony Veitch yesterday, labelling him a "two-faced d***."
Ryder is still sore after an on-air discussion Veitch had with Black Cap Craig McMillan in February following his high-profile departure from the team.
A public backlash erupted, prompting Veitch to take to Facebook at the time to defend himself.
"On the one hand you guys want hosts and commentators to say it the way it is, not fence sit, not take the easy way out and actually treat sport as a robust debate," said Veitch.
"But, when we do state an opinion, no matter how forceful it is, then the same punters fire back with allegations of unfairness and double standards."
Ryder said sports commentators in New Zealand were routinely negative. "They bag us sports guys all the time and tell us we're average," he told The Diary.
The cricket star has overcome a drinking problem and a bad-boy reputation. He has embraced sobriety and a new fitness regime that's seen his weight drop from 118kg to 106kg. Boxing is a newfound passion. "That's why it's a bit rich getting criticised by Veitchy," he said, referring to the broadcaster's past problems, which he has put behind him.
Veitch is on holiday in Bali and did not return calls.
BARNETT CONFIRMS MARTIN JOINING SPP
Despite denying the appointment to The Diary last month, South Pacific Pictures boss John Barnett has now confirmed he has hired programming whiz Kelly Martin as associate chief executive. "We hadn't done the deal yet," Barnett explained.
Martin, the former director of programming at MediaWorks, will start in September and share the chief executive role with Barnett.
"It will free Chris Bailey [SPP's managing director] and me up for other projects," he said. He would not say what those projects are.
HOSKING'S SIDEKICK GETS HIS OWN SLOT
They joked he had a face for radio, but Mike Hosking's technical producer, Glenn Hart, is now the face of NewstalkZB television. The talkback radio station has entered the low-cost world of internet TV.
Unoriginally called GlennZB TV, Hart fronts the snappy show - about five minutes long - which streams from ZB's website irreverently covering issues.
On the Queen shaking hands with Martin McGuinness in Ireland, Hart posed: "Imagine if she'd pashed him? People would have called a national holiday. There would have been parades."
To ZB listeners, Hart is Hosking's low-key, self-deprecating on-air sidekick - a good foil, some say, to the outspoken broadcaster's polarising personality.
"The TV show is Glenn's personality. People finally get an opportunity to see him without Mike hogging the limelight," boss Dallas Gurney told The Diary.
Topics are introduced on handwritten pieces of paper. "It's a low-tech production," Gurney laughed.
News media has become a content business leveraged across multi-platforms. As far as a radio station dabbling in web television goes, this is a fun stream to point your browser at.
TWINKLE-TOES TO HEAR PITTER PATTER
Following the pitter patter steps of Anna Paquin, expat celebrity twinkle-toes Brendan Cole announced on Friday he is to be a father.
The Christchurch-born, London-based dancer took to Twitter to make the broadcast: "Check out my beautiful wife, if you think it looks like she might be glowing then you're right, she is!"
Cole and his wife, model Zoe Hobbs, celebrated their second wedding anniversary last week.
The star of Strictly Come Dancing has been formerly linked to buxom beauties Nicky Watson and Kelly Brook - much like Eric Watson has been.
USA MAVERICK JOINS DOTCOM FAN CLUB
Kim Dotcom enhanced his public relations image by posing backstage with Jemaine Clement at a Flight of the Conchords gig and marching for TVNZ 7 post-mortem, but his welcome endorsement from a controversial American politician illustrates a mantra that any publicity is good publicity.
Rhode Island state representative Dan Gordon tweeted his support. "Best regards to you and yours, Kim! Ironic that US Independence Day is next week when they want to enslave citizens & non alike." Dotcom retweeted the message to his 46,000 followers.
"They", presumably, is the US Government, which Gordon - a libertarian running for a second term in office - gave a two-finger salute to in April after filing his taxes late to "make a statement".
His statements do not end there. When media exposed a past assault conviction and traffic offences, Gordon reportedly blamed post-traumatic stress. He said he turned to the bottle after his service in the Gulf War where he was was injured by shrapnel outside Baghdad. But the Associated Press said Gordon's records show he had never been near a battlefield while serving as a military aircraft technician.
Dotcom is the hero du jour, and the invalid search warrants served before police raided his Coatesville mansion have not only compromised a serious international case but have also appealed to anyone wanting to stick it to the authorities.