Landscape gardener and Life columnist Justin answers your questions.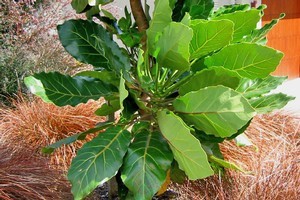 Five years ago I planted pukas along the north side of my house to give me more privacy, which was successful. Unfortunately, too successful, as it is now very dark inside the house most of the day and I need to trim them back. How far can I trim them and will they grow back quickly?
- Bev
The puka is related to the popular hedging natives griselinia, so this means it will refoliate from cuts made as far into the canopy as the trunk. You can prune your puka down to a bare trunk with a couple of branches at the top, with no foliage whatsoever, and when the weather warms up you will get some nice new foliage. Make sure you remove the old plant material from the base of the tree, as the big leaves can hold small pools of water which will attract mosquitoes. If you prune more judiciously you will usually find you can cut a hole in the canopy, which will allow the sun into your house without compromising your privacy. Whatever happens, be reassured, your tree will grow back.
I have a backyard area in shade where the grass will not grow.
I've tried everything. I get a good thatch going by the end of summer only for it to thin out again during winter.
- Megan
You can buy grass seed to specifically suit shady conditions and will go a long way to solving your problem. I would also put a big emphasis on feeding and conditioning the lawn late in summer to help it through the winter. This could include thatching the grass with a plastic leaf rake after mowing, aerating the soil by driving a garden fork into it at regular intervals and replenishing the soil with a fine sand, seed and soil layer. I'd wait until the weather warms up before touching it though and make sure you collect any leaf fall that may have collected in the problem area.
I am about to plant some peach and apple trees in my front garden. I have planted a peach before but it struggled in the heavy soil. Is there anything I can do this time?
- Rick
The most important thing to check when you purchase your trees is whether you have the right root stock. Most commercial fruit trees are made up of two types of plant material grafted together that will, depending on the components, suit specific conditions. You need to buy trees which have root stocks suited to heavy soil conditions. With apples, look for a Northern Spy rootstock and then whichever apple you want to grow can be grafted to it. With peaches, find trees with plum rootstocks as these do much better in heavy soil. Make sure you add heaps of organic material to your hole which should be nice and deep. Positioning the tree is also important as you need good air flow when growing peaches to avoid fungal infections. Apples will do much better in an open sunny position.
Mind the wet weather
In the vege garden:
Plant beetroot, broccoli, brussels sprouts, cabbage, carrots, cauliflowers, garlic, onions, parsnips, peas, shallots, silver beet and spinach.
Remember not to walk on the beds while you're working on the garden as in this wet weather this will compact the soil and make planting difficult. Use bird netting wrapped around plantings and young seedlings to foil slugs and snails, for persistent repeat offenders use quash. Thin out your carrots.
Split your rhubarb and french tarragon. Try chive borders around the edges of your garden. The little purple pom-poms look amazing in the spring. Transplant strawberries and replace old 3-year-old plants with new ones.
In the garden:
Mow the lawn long. Don't go crazy trying to scalp the lawn back. At this time of year it is growing very slowly and won't look untidy with a bit of length.
Now's a great time to trim back your trees, mulch the discarded material and use it on your path.
With all this rain it's a great time to apply epsom salts to your citrus, gardenias, rhododendrons and azaleas.
Replenish garden paths with mulch.
Rake up leaves and apply organic matter and compost around deciduous trees.
Transplant any trees and shrubs you want to move now. It's important to take some of the dirt from the old hole to the new one. Remember use plenty of organic material and make sure you invest in some solid stakes.
Cut back canna lilies, dig up and divide tubers. The leaves make excellent compost.
Plan ahead:
Believe it or not, spring isn't too far away so take the opportunity that this slow winter growing time affords, to do some planning. Figure out where to put borders and large drifts of colour. Work through your crop rotation cycle so you can prepare the soil for the warmer months ahead.
Gather materials such as bamboo for garden structures and stakes. Clean out the propagation house and make sure you've got enough materials such as seed trays, potting and seed raising mix at hand to get the most out of spring.
Compost doctor:
Turn your compost. Don't let your compost get too wet. If you have a bin that's uncovered it might be an idea to cover it. If it is wet add some carbon or brown material such as leaves, brown cardboard and partially decomposed mulch. Make sure you give it a good mix up. If the compost is too dry then empty the bin and water it as you refill the bin again. Decomposition is much slower at this time of the year but can be accelerated by adding cow manure and turning every three to four weeks.