Landscape gardener and Life columnist Justin answers your questions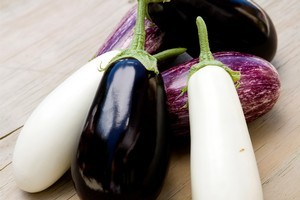 The first year I grew eggplant the plants didn't produce fruit until almost the first frost. Last year I started earlier and the flowers never developed past a large bud that dropped off. This year they are earlier than before and larger but what do I need to do to keep them developing?
- Lesley
Eggplant is a tropical or subtropical plant. To get the best out of them in New Zealand some artificial ground work needs to be done. Firstly the growing season is really long so you need to germinate your seeds at the end of winter. These need to be nurtured in a warm place indoors and kept well watered.
Introduce your eggplants to the garden slowly by putting them outside during the day and then bringing them in in the evening. Do this for a week of two or until the danger of frost has disappeared.
During the spring months use a poly tunnel. This will regulate the temperature during variable weather. Once it is hot enough to have your plants out of the tunnel (around 21C) make sure your plants have good air flow as they are susceptible to fungal infections.
If you think you're too late or that all seems too hard, go to Kings. They'll have plants with fruit already set.
I have grown a cutting of the climbing rose "veilchenblau". The flowers on the plant from which I got the cutting were a purple-pink colour. My small climber is bushing out a bit, but has not yet flowered. It gets the sun for at least half the day, I'm watering it every few days, and have given it some rose fertiliser. Is there something else I can do to encourage it to flower?
- Anne Lowe
Your "veilchenblau" rose is an heirloom variety and flowers from second-year wood, so keep this in mind when you are pruning and shaping. To keep the rose tidy it might be better to focus on tying back the rose before flowering and pruning afterward. Otherwise you've made a very reliable choice - you should get the flowers it sounds like you deserve next season.
I thought I might buy one of those hose timers to keep my vege garden watered while I'm on holiday for two weeks. How long do your recommend leaving a sprinkler on each day for veges? And how else can I stop my raised vege bed from drying out? I'm growing tomatoes, corn, melons, peppers and lettuces.
- Dean
Watering while you're away will set you up for some nice surprises when you get home. I would go for a dripper system with individual drippers for each plant. This is perfect for watering under mulch - which brings me to the second part of my answer. Mulching with straw or specialty mulch from Kings will help regulate the soil conditions, stopping the soil from drying out or cooling excessively at night. Set the timer for early morning. If you water at the end of the day the soil temperature can drop overnight and while not usually critical, it can make an overall difference through the life cycle of your crops.
This week's checklist
* Harvest garlic. Let it dry and seal up, then plait and hang it. Remember to save seed for next year. Eat the big ones first as they deteriorate sooner.
* Tie up tomatoes and feed. Remember to keep the watering regular.
* Spray cucurbits (which include pumpkins, cucumbers and melons) for mould with baking soda spray.
* Harvest courgettes and cucumbers regularly to encourage new fruit.
* Harvest potatoes as required.
* Keep sowing basil and coriander. If it goes to seed then find a shady place to plant it out. If you have a lot make some pesto - it freezes well and ice-cube sized portions are handy for cooking.
* Mulch everything and water each plant individually with a hose (while holding a glass of wine).
* Dead head flowers and save seeds for next year.
* Keep citrus nourished with epsom salts (available from Kings)
* Don't leave beds bare. Sow a herb lay or green crop to give things sparkle in autumn.
* Keep your lawns in check - mow regularly and keep them long. Think emerald shagpile.
* Get the bird netting ready for grapes, pip and stonefruit.
* Come on people, turn your compost.