Up to $3000 on offer for high achievers but getting the message to students can be a struggle, official says.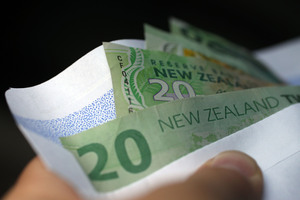 School leavers are being urged to take advantage of competition between universities as one offers up to $3000 cash for those with high marks in NCEA.
Applications for many scholarships close as early as this week, and universities say it can be difficult to make students aware of the chance.
An excellence or merit grade in NCEA will see up to $3000 deposited into the bank accounts of those in their first year at the University of Canterbury next year.
That deal, being shopped to students around the country through radio ads, is not limited in numbers.
Other universities including Massey and Victoria are dangling similar money-for-grades offers, although the numbers of such scholarships are capped.
And major advertising campaigns have begun as those in their final year of school weigh up where they want to study, with Australian universities also appealing to Kiwi students.
Trudi Zawodny, student services manager at the University of Canterbury, said the payments were introduced in 2011 after the earthquakes as a way to help students.
However the scheme, under which about $2 million was given to around 1300 students last year, was now about raising the university's profile and would be continued indefinitely.
"We know that it's not likely to be the one deciding point about coming to Canterbury, but if it makes that decision just a little bit easier, we think that's a positive thing."
Margaret Allen, manager of scholarships at the University of Auckland, said many faculties offered entry-level scholarships of around $2000 each for the first year of study.
Applications for many new entrant awards close within weeks.
"Check regulations to make sure you're eligible but most importantly apply if you are. Our entry level applications are online and it's very easy to apply," Ms Allen said.
Jon Winnall, scholarships manager for Universities NZ, said information sent to secondary schools didn't always reach relevant students.
"The big issue then is what the schools then do with it. You can send information to a decile 10 secondary school, and they'll feed it into their careers, scholarships and academic advice programme.
"But you send it to a lower decile school, it has been known for them to go, 'oh yeah, well, it's not for us, thanks' and move on."
Money for grades
2014 scholarships available to school-leavers:
University of Auckland: Some main categories closing Sep 4.
Auckland University of Technology: Sep 1 closing date for two main school-leavers' scholarships.
University of Waikato: Range of scholarships still open.
Massey University: Applications for key scholarships close Aug 30.
Lincoln University: Many scholarship dates closing this month.
Victoria University of Wellington: School-leaver scholarships closing Sep 15.
University of Canterbury: To be eligible for entrance scholarships students must enrol by Dec 10.
University of Otago: Main categories close tomorrow.