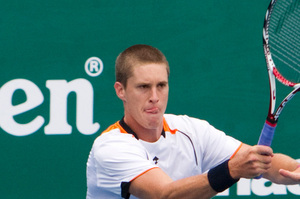 There have been some epic Davis Cup ties in history, and New Zealand have been involved in some good ones, but their matchup against Lebanon hasn't come close.
This afternoon Dan King-Turner and Marcus Daniell won the doubles 6-1 6-1 6-1 to give New Zealand an unassailable 3-0 lead in their Asia/Oceania Group II tie heading into tomorrow's reverse singles. At 68 minutes, it was the longest match of the tie so far which has gone for just three hours and 10 minutes.
The state of New Zealand tennis is well known so it's saying something if they can dismantle another country but Lebanon are without their top player and none of the rest currently hold a world ranking. Karim Alayli and Ibrahim Abou Chahine were certainly out of their depth today.
For a while it looked like New Zealand might threaten a new world record for the most decisive victory in Davis Cup history. Sri Lanka dropped only six games in their tie against Syria in 1991 but Lebanon have now won eight games in nine sets of tennis.
They're not likely to pick up many more tomorrow and New Zealand should end the tie with the most convincing win in this country's history - they dropped 26 games against Malaysia in their 5-0 victory in 2009.
Captain Alistair Hunt will put out his strongest players tomorrow even though he could have rested King-Turner and Artem Sitak to give Daniell and No 4 Matt Simpson some game time but wants his side to be ruthless.
"They were the ones who were named and I want to keep going with that,'' Hunt said. "We want to get 5-0. It's important. We don't want a 3-2 or 4-1. We should get 5-0. That's the job.
"It's nice to get that out of the way. Davis Cup is never easy and our guys did pretty well. They executed well. They didn't have to play at the top of their game but they were pretty solid in what they were doing and did exactly what was needed to win this tie.''
The next assignment in April will be tougher with Pakistan the likely opponents. Pakistan were level 1-1 with Sri Lanka after the first day of singles and have Aisam Qureshi, who is ranked 14th in the world in doubles.
Pakistan would be due to host the tie but it could be shifted to New Zealand for security reasons, in the same way the present tie with Lebanon was moved to Auckland.
It will help New Zealand's quest to return to Asia/Oceania Group I after they were relegated last year but not Tennis New Zealand's coffers - they have put about $25,000 into the one against Lebanon for no return.
Result from the Asia/Oceania Group II first round Davis Cup tie between New Zealand and Lebanon at the Albany Tennis Park, North Harbour, today:
Dan King-Turner/Marcus Daniell (NZL) bt Karim Alayli/Ibrahim Abou Chahine (LEB) 6-1 6-1 6-1.
NZ win the tie 3-0.
- APNZ