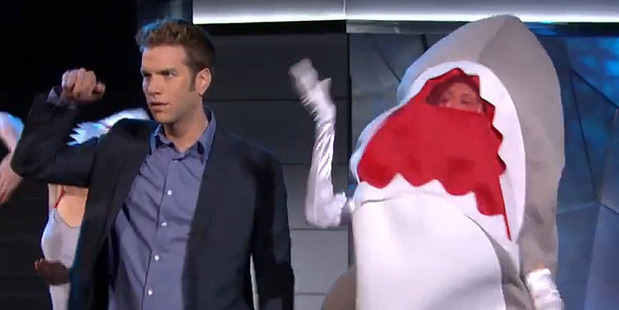 The US comedian who mocked a Kiwi shark attack victim has had his television show cancelled.
Anthony Jeselnik received death threats after he hosted a "shark party" to "give thanks" for the death of Muriwai man Adam Strange on his Comedy Central show The Jeselnik Offensive last year.
He revealed that the show had been cancelled in a stand up comedy show at the New York Comedy Festival this weekend.
The show's ratings had been dropping before its second season finished in August.
Jeselnik prompted fury from the Muriwai community after his "shark party" went to air in early March.
The stunt featured the comedian being given a lap-dance by a woman in a full shark costume while a photograph of Mr Strange was displayed on a screen behind him.
"Let's not forget the man that made this all possible," he said.
"Smile, you son of a bitch. And that brings this year's total of people killed by sharks - 1, sharks killed by people - 17 million."
Video of the skit was pulled from the Comedy Central website after Jeselnik started receiving death threats.
The chairman of the Muriwai's Surf Lifeguard Service, Tim Jago said locals were "digusted" at the stunt.
"The fact that it's in incredibly poor taste isn't in question. I couldn't find where the humour was in it for a start, so it was pretty lame in that respect.
"I guess the thought that ran through my mind was if a New Zealand comedy act tried to make fun out of something like a high school shooting in America, they'd be on our backs and condemning us straight away."
Jeselnik later told US talk show host Conan O'Brien the skit was aimed at highlighting the number of sharks killed every year by people.
"Thirty people die every year from shark attacks but 100 million sharks die from people every year," he said.
"So on my show I thought it would be funny, and it was, if when a guy got killed by a shark, we would do a thing called Shark Party where we would have things like dancers come out."
- nzherald.co.nz