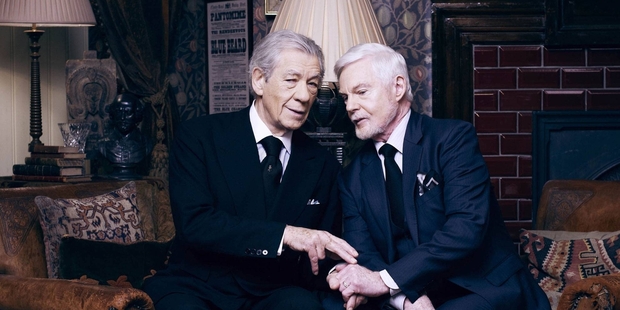 Pick of the Week: Vicious
It's been called everything from a throwback to the dark ages of British comedy to endearingly nostalgic. It's had UK critics wondering whether the ITV sitcom about an elderly gay couple - played with thespian relish by Sirs Ian McKellen and Derek Jacobi, as they bitch through the day in their London apartment - was progress for gay visibility on television or a revival of camp stereotypes.
McKellen plays Freddie, a past-it actor whose stage career never amounted to much and Jacobi is Stuart, a retired barman who still hasn't got around to telling his mum about his relationship.
Their bickering largely takes place in their dingy flat, which gets occasional visitors - such as their best friend Violet (fellow stage veteran Frances de la Tour) and Ash, the nice young man who has shifted into the apartment upstairs.
McKellen says the pair's self-confinement is telling.
"They keep their curtains closed to shut out the outside world. The serious point is that for much of their lives they have had to live privately."
But he says that the show isn't about the characters being gay - it's about the characters. "It isn't a satire or an expose of gay life. These characters just happen to be gay. For me it is as if TV has grown up. In the past, gay characters in sitcoms have been figures of fun. They were funny because they were gay. But I like the fact that these characters are funny because of the people they are. That's a real advance.
"It's a relationship of long standing. They have fallen into the habit of being horrid to each other. Although they've got into this habit, they clearly still love each other in the way that people who have been together for nearly 50 years do. They've survived. Anyone who was gay in the 1970s was rather heroic - when Freddie and Stuart first knew each other, it was actually illegal. But they've come through thick and thin together, and are still incredibly close."
And McKellen's pleased to be working opposite old chum Jacobi, with whom he first acted at Cambridge University in the late 1950s.
"We don't have to pretend we've known each other for 50 years because we have," says McKellen.
Taped in front of a studio audience in a traditional three-camera format, the first season of Vicious is six episodes long with a Christmas special and second season in the offing.
The cheap and cheerful format might seem like a come-down for the two celebrated thespians but McKellen says a sitcom has its challenges.
"At first it's worrying as you think, 'Am I going to remember the lines?' In the theatre, you have more rehearsal time, and in film you can stop and start. But with this, you just have to keep going. However, it's really useful to have the studio audience there because they tell you exactly what's funny."
When: Tonight, 9.05pm
Where: One
What: Queer as old folk
Crime pick: The Fall
This gritty, chilling, cat-and-mouse crime series marks a long-awaited return to the small screen for Gillian Anderson, who brings as much focus and intelligence to the character of homicide detective Stella Gibson, as she did to X-Files FBI agent Dana Scully.
Now, instead of chasing paranormal activity she's chasing a slippery, sadistic serial killer who is terrorising the women of Belfast. It's delivered as a forensically detailed examination of the victims, their families, and the main characters - Gibson, and killer Paul Spector (played by charismatic Jamie Dornan), who is hiding behind a facade of likeability and respectability as a happily married father of two and his job as a bereavement counsellor. On arriving to review the cases, Gibson soon determines that all the crimes are connected to the same person.
When: Thursday, 8.30pm
Where: SoHo
What: The hunter and the hunted
Adventure pick: Wild About New Zealand
Kiwi environmentalist and adventure enthusiast Gus Roxburgh is heading into the wilderness to explore our national parks in all their dynamic beauty, encouraging us to make the most of the treasures in our own backyard and at the same time protect them for future generations.
New Zealand has some of the most rugged, isolated landscapes on Earth, which has given rise to special ventures between tourism and conservation.
In the first episode, Roxburgh goes to Fiordland/Ata Whenua, or the "Shadowland". It covers 5 per cent of our land mass and is home to many gems, including the Bowen Falls, which Roxburgh attempts to abseil, the Milford Track and Dusky Sound. Later in the series he'll be going to Mt Cook and the sparkling Hauraki Gulf.
When: Tuesday, 8.30pm
Where: TV One
What: Our national parks
Reality pick: Mitre 10 Dream Home
There have been tears of happiness and despair. There have been many laughs too. And, in the case of Jay and Amanda, there have been tantrums and colourful exchanges over the course of their DIY journey to create their dream home. In fact, for a family show many "bleeps" have been needed during the filming of the Black Team's segments.
In tonight's live final, the highs and lows of the two teams' renovations are revisited, including the Orange Team of the Giles family, made up of Martyn and Sarah and their six children. The winner of the show is decided by 70 per cent public vote and 30 per cent judges' vote tallied up across the entire series. Meanwhile, for the non-winning team, their house goes to auction where the public can bid against them.
When: 7.30pm, Tuesday
Where: TV2
What: Waiting for the hammer to fall
Sci-fi pick: Under the Dome
You wait for years for a giant dome to descend on a town in telly and then two arrive in one week. There's The Simpsons Movie on TV3 tomorrow night in which Springfield is quarantined from the outside world, thanks to Homer.
Then there's Under the Dome, loosely adapted from the Stephen King ecologically themed story of a small New England town, Chester's Mill, which gets enveloped in a transparent but impenetrable covering. It arrives so suddenly that it causes mayhem on roads and surrounding farms.
Cut off from the outside world, the townsfolk are soon at the mercy of power games where the chief player is local councillor James "Big Jim" Rennie (played by Dean Norris from Breaking Bad). Fans of Lost and FlashForward may find it's their new favourite show.
When: Wednesdays 8.30pm
Where: Prime
What: Life in a bubble
Follow @nzherald_ent on Twitter for all the latest entertainment news.
- TimeOut