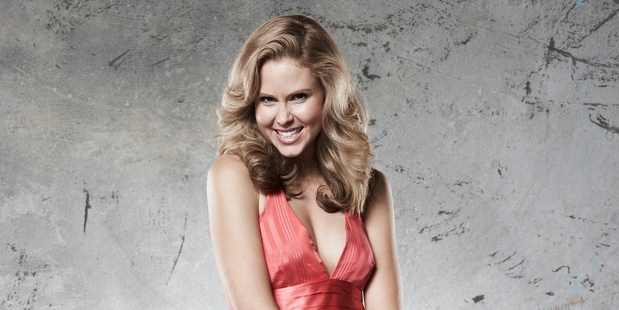 This week, she was named Sexiest Woman in the TV Guide Best on the Box Awards, and Go Girls star Anna Hutchison told The Diary she's humbled by the honour and gives full credit to her grandmother.
"Thanks so much to all the people who voted for me. I don't think Nana has ever voted so much," she laughed self-deprecatingly.
Hutchison holds the crown with Shortland Street heart-throb Ben Mitchell (TK Samuels), who was named Sexiest Male.
The 27-year-old actress is in Los Angeles where she has been auditioning for roles throughout the pilot and casting season. "Anna's really popular up there. She's been flat-tack shooting roles for various television pilot shows," said her agent, Imogen Johnson, who also represents Karl Urban.
But the Spartacus star is just embracing her newfound foot freedom.
"The moon boot is off and the heels are on!" she chortled.
Hutchison broke her foot during training for the 60km Kepler Challenge, a mountain run in the South Island. "It's been four months of hobbling around on a moon boot, but now I am back in high heels."
Paternity leave for Carter
Forget about beefy rugby players not showing a softer side. Dan Carter has embraced impending fatherhood by declaring he won't travel with his Crusaders team to South Africa next week as he waits on the birth of his first child.
"Baby Carter", as Dan dubs his child-to-be, is due next month. The All Black says he is "very excited about becoming a dad for the first time in April" but is "gutted not to be heading to South Africa with the team".
Godfather Phil gave approval
Sky Sport presenter and the prettier face of Hauraki breakfast, Laura McGoldrick, is the new co-host of The Golf Show and she says she has the support of her godfather Phillip Leishman, who passed away last month after a battle with brain cancer.
Now called the ANZ New Zealand Golf Show, McGoldrick presents the programme that Leishman made famous. She's joined by his younger brother Mark Leishman, and the first episode screened this week.
"It's a real privilege. Phil asked me to do it before he passed away. He was my godfather. I had grown up with him all my life. He was best friends with my dad, they both came from Timaru," McGoldrick said.
Not great for tourism?
Jane Campion's foray into television, Top of the Lake - the seven-part crime series starting on Monday on UKTV - has garnered gushing praise from local critics, but a critical review in the New York Times suggests the show might not be a winner for New Zealand tourism.
Campion's TV series, filmed around scenic Queenstown, provides quite a different local depiction to the Hobbit, according to the Times.
Says the Times: "It was filmed in the mountains of southern New Zealand, and the vertiginous landscape provides some visual drama amid the arbitrary shocks and glum psychologising of the story. The tourist board can't be too happy, though. Ms Campion turns rural New Zealand into a steaming backwater that makes the American South of Deliverance look enlightened". A hillbilly horror? Tourism Minister John Key won't be peddling that message.
Battle over prisoner
The battle for current affairs viewers in a crowded market (10 shows across five channels) beefed up on Wednesday when Maori Television boss Jim Mather fired a withering shot to TV3 after their story about a New Zealand man languishing in a Philippines jail because of a $4800 debt he can't repay.
A 3rd Degree team travelled to the Filipino prison to interview Vernon Gardiner.
Following Wednesday's report, the show set up an account to raise money for his release, stumping up $1000. The account closed yesterday with the money raised.
But Mather, no stranger to promoting his channel's Native Affairs, was disgusted and took to Twitter to vent: "Exploitation thinly disguised as journalism.
3rd Degree leaves a Kiwi rotting in jail then starts a Telethon to cover the small debt. Heartless."
He told The Diary it felt like a publicity stunt. "I was surprised with the fundraising aspect to the segment. Why didn't TV3 just pay for his release?"
But 3rd Degree's Terence Taylor says Mather is misguided. "It's our job as journalists to expose injustice and hold those in power to account and that is exactly what we have done in this case," he told The Diary.