The chat show host is having a great time acting up in this venture into the world of animation.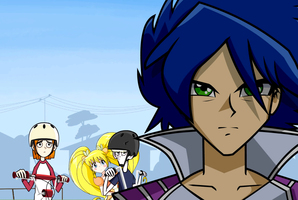 Rove McManus Rove McManus says it's funny how the stuff that used to get him in trouble in school now gets him a job on a really cool show.
One of them is the animated adventure Exchange Student Zero, on Sky's Cartoon Network.
'Not only because I am such a fan of the art form but also there is no greater pleasure than jumping up and down like an idiot and making silly voices for a day," he says.
In the telemovie, set in McManus's home town of Perth, best friends John and Max find their favourite fantasy card game Battle Day Zero taking on a whole new dimension when one of its characters, the heroic Hiro, comes to life. They try to pass him off an exchange student.
John, Max and Hiro are only a few of the characters voiced by McManus in a vocal cast which includes Luke Skywalker himself, Mark Hamill.

Was it always going to be the case that you'd voice so many characters?
It ended up being quite an organic process. There were probably about eight of us in the cast originally, when the idea was just getting up. And we would read the script through and Bruce [Kane, producer] would get us to swap roles, finding the right people for the right mix, and you would find yourself doing one or two different roles. Then on the day you'd hear, "Oh, do you think you could read this one, too?" Before you know it, you've got five roles, which is a real thrill.
What's more, those characters are interacting with one another, adding to the challenge. How did you approach that?
You don't want them to just sound different vocally but have a real distinction between one character and the next. The main characters Max and John are very good examples of guys with a similar kind of sound, although Max has a slight speech impediment because he has these huge teeth. John is more like I was at that young age, while Max is this very heightened, over-the-top type of character, so I can be a bit more excitable. For Hiro I watched a lot of anime to get that very hurried way of talking - those cartoons often made in Japanese and then dubbed into English, so there's a lot of speaking very quickly to fit it all in. It's a fun process - it's not just about picking a funny voice out of thin air, it's about building a whole character from the ground up.
Is acting something you'd like to pursue?
I like to think it's in there somewhere because acting got me my start before I started doing stand-up. I acted as a kid but then I got bitten by the comedy bug. Even when I was acting, though, I preferred comedic parts to more dramatic stuff. I get the feeling my acting know-how may have been beaten out of me through years of comedy because I now tend to play things so large but I like to think it's still in there and it's something I could tap into.

TV preview
Who: Rove McManus, talkshow host turned cartoon voice
What: Exchange Student Zero
When: Sky TV's Cartoon Network on Saturday at 6pm

- AAP