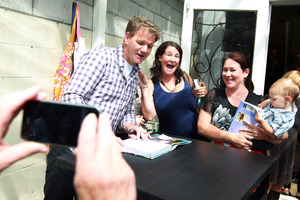 Gordon Ramsay says there's no comparison between himself and foul-mouthed Kiwi chef Georgio Cinderella - who abused customers before booting them out of a Christchurch restaurant.
On his recent visit, the famous Scottish chef told the Herald on Sunday he often got fired up but would never yell at his customers like Cinderella.
"I would never throw a plate or yell at a customer," Ramsay said. "When you are working in a fine dining restaurant with three Michelin stars and someone starts asking the chef for ketchup, you know it's a wind up."
Cinderella - aka former Queenstown mayoral candidate Colin Cloudesley - reacted to comparisons with Ramsay by saying he could probably teach Ramsay how to "get food out quicker than he can".
But on his recent trip to New Zealand Ramsay showed his charming side.
As well as settling out of court with events company Duco, the chef signed hundreds of plates, books and knives at promotional events in the city.