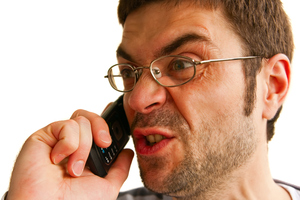 Being told your call is "important" while being made to wait on hold indefinitely is universally irritating, so imagine wasting 43 days on the line.
Well, according to a new survey, most of us do.
A study that polled 500 consumers has found that the average person spends 43 days of their life on hold with an automated customer service.
The survey, conducted by ResearchNow and commissioned by TalkTo - an app that allows you to text businesses instead of calling them - also showed that more than 86 per cent of people are put on hold every time they pick up the phone to call a business.
The survey also revealed that 58 per cent of customers got "ticked off" at waiting and 48 per cent believed calling a business was completely futile, the Huffington Post reported.
"People are busy, so why are businesses making them wait on hold?" Stuart Levinson, co-founder and CEO of TalkTo said in a statement.
"This research shows how poorly the phone performs as a customer-service channel. Everyone's calling less and texting more. It's time for businesses to catch up with how customers want to interact with them."
Australian man Andrew Kahn would have to agree, given the 15 hours, 40 minutes and 1 seconds he spent on hold to Qantas airline while trying to confirm a flight in July last year.
"I had had enough," Kahn told the Telegraph in August.
School payroll provider Novopay has come under fire in New Zealand for extended waiting times.
In the lead up to Christmas last year, callers trying to get in touch with embattled service were made to wait for an average of 28 minutes, despite Novopay's target of four minutes to answer calls.
See an infographic of the results here.
- nzherald.co.nz