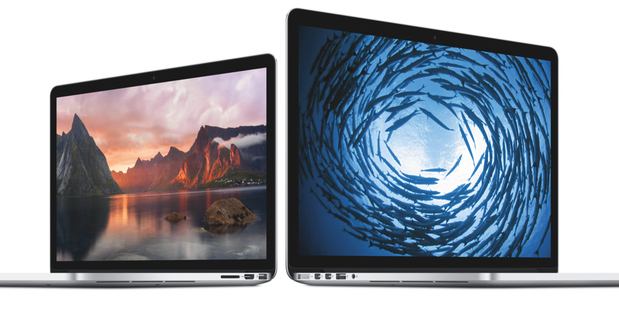 One of the figures that came out of Apple's earnings call last week, as already discussed, was a surge in Mac sales. This was surprising as it was unexpected - PC sales are declining at two percent generally, supposedly replaced thanks to the rise of tablets. And why couldn't the analysis firms have predicted this? Because Mac sales data provided by both IDC and Gartner during Apple's June quarter were "laughably off the mark", although it's not as if Apple is generous with its sales figures, certainly by region. You basically get little or no info until a WWDC or official Earnings Report.
To me it raises the innovation argument: I have been an Apple user since 1989 (I'm not exactly an original user, as I've met plenty of people who had Macs the year it was released in 1984, and even those who used Apple machines before that). OK, but 1989 till now is still a fairly respectable 25 years. Apple wasn't considered 'the innovator' through most of that time, rather an outside company that addressed its niche markets very well, those being mostly creative professionals and educators.
And these groups were happy to buy a new Mac every few years, get to grips with new systems and take the almost relentless ribbing of the hordes of PC users relatively unphased. They didn't understand us, we simply didn't care what they used. We had little interest. To 'us', processor numbers and prices weren't the reasons we were using Macs. For a start, the prices were always painfully steep (for me, definitely) and the tech numbers of the machines themselves often didn't compare that favourably. But we had an Apple system that had a screen calibrated out of the box, and it ran an OS written to work as well as possible with the hardware. That system had benefited from thousands of person-hour inputs to make it usable - and that usability was the key feature.
Of course, creative professionals tend to prefer good-looking, well-designed products and sorry, PCs were just really ugly in almost every instance compared to the carefully crafted Macs. In fact, they still are. Other companies learnt lessons form Apple for tablets and smartphones, but there are very few PCs and laptops that look anywhere near as good as Macs, at least in my opinion.
So we went through the halcyon years when Apple, despite the assaults of price, processor and PC pedants, had around 12 per cent of the NZ PC market. And some of those Mac even managed to hang on through the bad years when Steve Jobs was roaming in the NeXT wilderness. I did - and no, it wasn't easy. Those PC fan criticisms were hitting home as Apple released bland beige Mac after bland beige Mac. At that point, Mac use slumped to under 3 per cent in New Zealand and in most other places.
Then, Steve Jobs came back, reorganised things, bided his time and then the all-in-one translucent 'jelly' iMac appeared and Apple started on the road to recovery.
Perhaps at this point some people started using the 'innovative' tag for Apple, but it didn't really register with me. I wasn't writing about Apple at the time, but I was designing magazines on Macs, and the iMac was both a wonderful home machine, internet-connectable out of the box (hence the 'i') and it was also a space-saving blessing in the workplace. I was impressed, though. Apple was back on track in spectacular fashion.
As Jony Ive took over more and more of Apple's products, the look of Apple hardware became more and more refined - it became excellent. Apple's first real break with Macs was the iPod, which became the de riguer way of listening to music on the go, reaching a status as iconic as Sony's Walkman had a generation before.
Apple sales had picked up considerably with the jelly iMac, but the iPod probably did more to bring the Apple brand to the attention of consumers. They started buying Apple laptops and Mac sales rose. Apple was viable in no uncertain terms, and had released a portable product that obviously found a resonance both inside and outside the company. But the iPod wasn't exactly innovative - attractive, useful, worked particularly well with Macs, sure, but basically it was repackaged existing technology.
In 2007 the iPhone was launched. Now people were definitely calling Apple innovative. Sales exploded. Sure, there were smartphones before this, but they hadn't made any impact. They were rubbish - the iPhone was complexity in a simple package, eminently usable, and configurable beyond expectations thanks to apps and Apple's design on the touch-screen.
But as Apple became a major player, the markets began to really take notice. 'Innovation' was directly responsible for Apple's climb up the Fortune 500 ladder, and this was cemented with the release of the iPad. But it became a two-edged sword. Hordes of new users became entranced with Apple's 'innovation' and the market people hyped it because, hell, that's where they were making their own money from.
But the traditional doom-sayers for Apple - who had a long and largely unrewarding tradition - now had a new stick with which to beat Apple. It was 'innovative' any more.

So while you're criticising Apple for losing its edge, I'm admiring it for standing against releasing products that aren't perfect, against the clamour of those new fans who don't understand Apple's history and philosophy. I admire Apple for standing up to the money men (for they are mostly men) castigating it for not lining their pockets regardless of outcomes.
But I'm aware I'm in the minority.
In the meantime, while everyone seemingly awaits a totally new Apple product like an 'iWatch', Apple has been quietly improving the models of Macintosh. Just this week, Apple released new MacBook Pros with faster processors and 16GB RAM standard. The new 13-inch and 15-inch models look just like the versions they replace, but also have faster CPUs and graphics.
The 13-inch non-Retina MacBook Pro is still available and is the only Mac Apple sells with a built-in optical drive, but the price has been reduced slightly.
Now there are 80 million Mac users in the world.
That's 80 million users happy with the fact they can add an event to their schedule in Calendar, an address to Contacts and answer an email, and all these things will be automatically registered on their iPads and iPhones.
Amend a contact on their iPhone, it's amended on the Mac. Read up to page 66 in an iBook on the iPad, open it on your Mac and it opens on page 66, notes and highlighting all intact. Of course, all their devices need to be signed in to the same iCloud account, but that's a simple one-time sign-in to a free service.
And that, my friends, is how the so-called terror of Apple's 'walled garden'. May you quake. But it's also one of the reasons that all those iPad and iPhone users, who outnumber Mac users many times, often turn to Macs when they decide a new computer is needed. So while PC sales are slipping at 2 per cent a year, Mac sales rose 17.6 per cent in the last financial quarter, against all expectations.
Beat that.