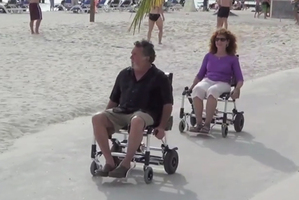 ZINGING ALONG: If you're a part-time wheelchair user then the Zinger, at 17 Kg, may interest you. It folds, it's electric, and it'll carry you for up to 12 Km at speeds of up to 9.5 Kph. It has a tight turning circle, so is suitable for indoors as well as pavement. You steer with a couple of joysticks on either side by the wheels, and there are no arms to get in the way. The Lithium-ion battery can be charged in or out of the chair. The chair folds easily and fits handily in the boot of a small car. That'd be a mighty useful thing for those who need a bit of extra support.
LIFE IN A BOX: That box on the front of a tricycle might just reveal it's a Housetrike. The small box has a lifting lid, a pull-out inner box, and a couple of legs for support. When fully opened the whole thing is big enough to sleep one. The box can be completely shut, providing protection from the weather, but a couple of portholes at least give a view.
While the Housetrike would be handy for travellers its designer has homeless people in mind. The trike combines transportation, shelter, security for personal belongings, and possibly even a way to earn money by carrying goods in the box. Delivery person by day, sleeping in the delivery vehicle by night.
SMELLY PERIL: You probably clean your clothes fairly regularly, but that usually takes a lot of water. Water's in short supply aboard the International Space Station so the astronauts end up wearing their clothes for a long time and then shooting them out of the airlock, packed in an old spaceship, to burn up in the Earth's atmosphere. A crew of six goes through 408 Kg of clothing every year. Before it's ejected though the pile of smelly and dirty clothes can cause storage and weight problems, and lint from cotton fibres can clog filters. Now NASA are testing exercise clothing that's been treated with an antimicrobial compound, or made with antimicrobial yarn. The astronauts will wear the garments for 15 days, hanging them to dry for 4 hours and then storing them in flame-resistant bags between uses. With any luck the new garments will allow the astronauts to use their clothes for longer before throwing them out. In this case, tossing out barely worn clothes really is just burning up money.
YELLOW PERIL: Malaria's a big problem around the world, but an equally big problem is fake anti-malarial drugs, possibly killing 200,000 people every year. Chemists at Oregon State University have created a simple and inexpensive test that can tell whether or not artesunate, one of the primary drugs being used to treat malaria, is genuine. First paper is impressed with a film that can detect the presence and level of artesunate. Then a single anti-malarial pill is crushed and dissolved in water. Place a drop of the solution on the paper and it turns yellow if the drug is present. What's more the intensity of the colour indicates how much of the drug is in the pill. That colour can be compared to a simple colour chart, or measured by a smartphone app. Now the concept has been proven the researchers hope to turn it into an actual product. The next problem then becomes making sure those testing papers are genuine.
ROLL UP, ROLL UP: LG Display's latest 18-inch OLED TV panel has almost 1 million megapixels and can be rolled up to a radius of 3 centimetres without affecting its function. The panel has a 30% transmittance. That clarity is about 3 times that of current models. OK, but why would you want to roll up a TV?
Miraz Jordan, knowit.co.nz