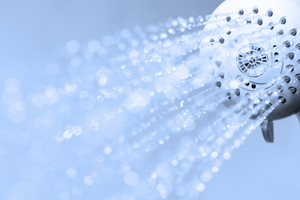 MONEY DOWN THE DRAIN: You spend a fortune to heat the shower water then it just flows down the drain after briefly touching your body, taking all that expensive heat with it. EcoDrain gets some of that heat back from the waste water and uses it to warm the rest of the shower water. The device is a simple heat exchanger that passes clean cold water in a separate pipe through the hot waste water. The cold water picks up heat as it flows past, so less hot water is required to give you the warm shower you're after, saving both power and money. The device has no moving parts and needs no electricity to run. There's a thing that could be made a standard fitting in new buildings.
FOREVER GOLDEN: Toast: too light or burnt all too often differ by only the minutest turn of the dial. If the toaster's already warm or the room's a bit chilly that can throw things off too. Dualit's new toasters calculate each variable in the toaster, from room and toaster temperature to how many slices it has toasted or how long it has had to cool, in order to produce perfectly toasted bread with every slice.
Choose a setting on the dial and each slice will be toasted exactly how you like it. Now we know they're just joking.
BEHIND YOU: As a cyclist you need to be aware of what's going on all around you — not just ahead and to the sides, but behind you as well. That usually means turning your head or checking a mirror. But how about if you had a micro radar that could pick up vehicles as much as 140 metres behind you? With a front unit on the handlebars that uses lights for status display and a back unit that flickers faster as cars approach you don't need to be swivelling your head to watch what's following you. The device also includes an API to communicate via Bluetooth BLE with phones, but the creators haven't yet made an app for it. An audible alarm could add extra zing too.
A SEPARATE ANSWER: Unless you remember to carry your keeper cup with you all the time if you stop to buy a coffee from a roadside vendor you'll end up throwing away the laminated paper cup it comes in. The plastic keeps the drink warm and stops the liquid from soaking through the paper but because it's bonded to the paper the cup can't be recycled. In the UK more than 2.5 billion such paper cups end up in landfill each year. The Green Your Cup though instead lightly glues a thin plastic liner into a recyclable paper cup. The two elements easily come apart during recycling, yet as far as the person drinking the coffee is concerned the cup looks, feels and tastes the same. There's a neat solution to something that shouldn't be a problem.
SHAKY CHARGE: About 75% of people in Kenya don't have access to mains electricity, but music and dancing are an important part of the culture. That's where the SPARK comes in: it's a musical instrument you shake so beads inside make noise. While the shaker's making noise though it's also charging up a battery thanks to a magnet moving inside a copper coil. After 12 minutes of shaking there's enough energy stored to run a light for an hour. Lights can be plugged in to the device via USB, and the device can also charge phones. It makes musical shakers that don't charge anything seem a bit wasteful.
Miraz Jordan, knowit.co.nz