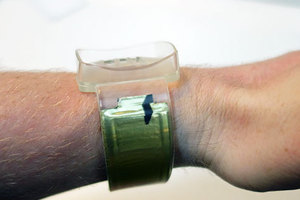 THE BAND PLAYS ON: A smart watch may be something you like to wear, but its wrist strap probably isn't so clever. A wrist band from ProLogium though could double the watch's battery life. That's because their wrist band is actually a battery, made from thin, flexible lithium-ceramic cells. The 1.5mm thick solid state batteries are made of non-flammable materials and won't explode or catch fire if cut into pieces. That not exploding thing is pretty handy.
INVESTED: Sudden cardiac arrest, or at least the risk of it, can be a problem for some people whose doctors give them a defibrillator vest to wear while they wait for surgery to implant a device. The vests though are bulky and uncomfortable so about 20% of patients don't keep them on at all times. Students at Johns Hopkins University redesigned the vest to make it more wearable.
The waterproof fabric is thin, breathable and stretchable and encases electrical components, capable of delivering a 200-joule shock, in thin pockets on the sides. A bulky control box has been replaced with a WiFi wrist device. So far the vest is only in prototype, but further development is planned. Better design is sure to increase compliance.
IT'S A WRAP: If the jacket you wear could act as a battery for your gadgets and wearable devices would you wear it? Chinese researchers are working on wrapping cotton fibres with carbon nanotubes to create a high-performance Li-ion battery. The resulting fibres can then be woven into fabrics. The researchers now want to improve performance in capacity and cycle life. Then, of course, there are things to consider such as the effect of rain, whether such clothes can be put through a wash, and how safe we'd feel being wrapped in a battery.
SUITABLE CONDITIONS: The Antikythera mechanism is a computer from ancient Greece found in a shipwreck 120 metres down in the Aegean Sea. To investigate the wreck and maybe find more such mechanisms researchers are diving down to check it out. For that they're using a $1.5 million pressurised Exosuit that works like a personal submarine and means the operator can resurface after 5 hours of work without worrying about decompression. The aluminium alloy suit has articulated joints that let divers freely move their arms and legs and thrusters to help the diver move around. A cable back to the ship supplies power and comms as well as a rebreather to scrub carbon dioxide from the air, while a battery provides backup in case of a cable problem.
IN THE DARK: Hydrothermal vents deep below the ocean are a rich source of information for researchers. The problem though is the environment: it's hot, dark, and deep below the ocean — not a great place for researchers to work. Ocean Networks Canada have a solution in the form of the Tempo-mini Vent Camera, deployed at a depth of 2186 metres in the Grotto Hydrothermal Vent off the coast of British Columbia. The HD camera is encased in a 3000m rated titanium pressure housing, and temperature and oxygen probes monitor water conditions. It's dark down there, and the local inhabitants like it that way. The camera has powerful lights, but they're only turned on for half an hour or so several times per day. Electrodes around the camera and lights produce chlorine too so things don't grow on the device and obscure the view. Next perhaps: a study of the disruptive effects of intermittent lighting on creatures of the deep.
Miraz Jordan, knowit.co.nz