Apple Watch writer Mark Webster is in San Francisco for the Apple Worldwide Developers Conference (WWDC) Here is his first report from the event.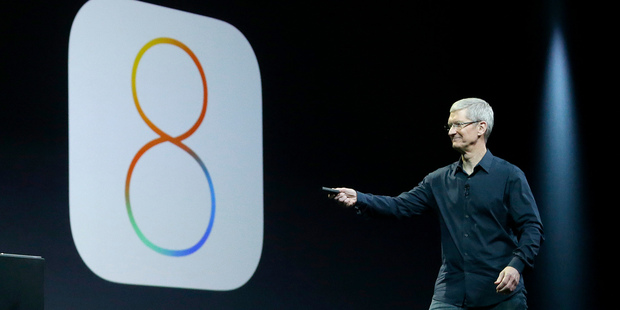 I typed this out on an iPad mini at WWDC, Apple's annual Worldwide Developers Conference in San Francisco. As usual the queue goes around the block; some Apple employees, lined up in orange shirts, are sending up whoops on the first floor. We head up to the second floor on the long escalators - on the first floor there's a Mustang and a Ferrari: one must guess they are to show off CarPlay after the Keynote, and sure enough, a little later we are invited back at 2pm to have a closer look once the punters have left.
I hang around upstairs with the other media, sticking close the doors that will let us in. I spotted the unmistakeable Jim Dalrymple from The Loop and introduced myself. I mention there seems like more of a buzz than last year - he concurs: he has been watching Apple transform under Tim Cook into a different kind of company and he likes the transition. I mention that lots of Apple people keep saying this one's going to be exciting and he nods and smiles like a Cheshire cat: "It feels like a big one."
We queue near the doors and when they open there's a stampede for seats. An Apple employee yells 'don't run, there are plenty of seats' but everyone wants to get as close to the stage as possible (media are directed to the left).
Apple CEO Tim Cook is already standing around chatting with people by the side of the stage, just 25 metres away from where I am sitting. He looks relaxed and happy.
As usual there are dozens of arms reaching up to take photos of ... Not much, yet. The show won't start till 10am. It's hard to imagine what Apple could be introducing that's 'big': OS8 and Mac OS X have been telegraphed by the banners, CarPlay has been talked about a lot, a new iMac would not be expected to be revolutionary, iPhone 6 could be announced, but it has long been the subject of speculation and leaks, however credible and iDevices normally come later in the year. iWatch? Apple Television? Something no one has imagined yet? In 12 minutes the keynote begins...
It's 10. A promo video appears concentrating on iPad apps. Tim Cook takes the stage to cheers and clapping. He thanks developers. It's the 25th anniversary of an event that started in 1990 with 1300 developers. There are 6000 people here today, and they could only get in if they won a place by chance. One thousand Apple engineers are here to run the labs and help developers through the week ahead. There are student scholarship winners from 69 countries, including our Judit Klein who I wrote about last week. He says we're gathered to see two powerful platforms and 'the mother of all releases for developers'.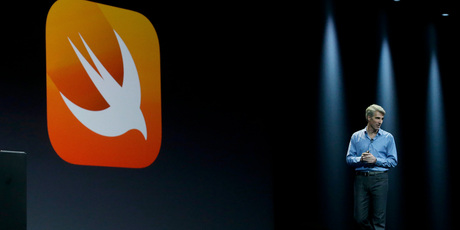 As we'd guessed from the banner, the new OS X is called Yosemite, which rouses a big cheer. Everything has been redesigned. Sidebars are translucent. Typography is more consistent, and the Apple apps all got the redesign too. Translucency is the look of Yosemite and there's a new Dark Mode to help concentration.
Notifications has had a big makeover. It now handles app widgets like Calculator. Spotlight's had a lot of work too, and lists recent documents under apps (search on Numbers, for example). Since it searches the web, you can search for sushi near you, or a movie straight from Spotlight.
A whole new feature is iCloud Drive. iCloud folders are accessible from the Finder, and store any files you like in folders in I cloud. This is accessible across devices - Even Windows. Awesome, and long awaited. Mail has been sped up, and the ability to send larger attachments is better with Maildrop, as they're sent as encrypted links. It handles files up to 5GB: a big cheer for this.
Safari has a more unified toolbar, and the share button supports RSS and other options. It's much more energy efficient. Mail has markup for directly marking-up image attachments within the message body.
Continuity handles transitions between devices with AirDrop, which now handles iDevices to the Mac (big cheer). You can hand off a document on from an iPad to Mac and carry on working, even if it's an email. Hotspot is now automatic - no connection to your Mac required. If your iPhone is handy, it's immediately accessible from the Wi-Fi menu. SMS Messages are even relayed between even Macs and iDevices, as are phone calls. Your Mac can accept a call to your iPhone and act as a speakerphone. The Mac can dial out via iPhone from the contacts app.

All this is very popular with the audience. You can dial numbers off web pages on your Mac, for example. Craig Federighi (Apple's senior vice president of Software Engineering) calls Dr Dre and tells him he's on speakerphone talking to 6000 people. Dre jokes about what time he should show up to work at Apple.
It looks like a great version of Mac OS and developers get it today - everyone else gets it in a few months, but Federighi also says there's a public beta available with a sign-up.
Tim Cook comes back and tells us that next is iOS. 100 million iPod touches, 200 million iPads. Over a billion iPhones sold. 130 million people bought their first apple device in the last 12 months. Many of these were switchers from Android. Customer satisfaction is at 97 per cent, and 89 per cent have upgraded to iOS 7; only 9 per cent of Android users run the latest Android. Mobile malware is 99 per cent Android.
"iOS 8 is a giant release" says Cook. Craig Federighi comes back. It looks like iOS 7 but has beefed-up notifications - you can reply to a message or email directly. The typing model has been improved to include iIntelligent suggestions that come to reflect the types of words you use. Message threads have a Details view, and can include more content like images. Your location can be set to be shared for limited time spans, and you can use Privacy to stop being bothered by busy message groups. Messages can include audio and video. Raise your iPhone to you ear and it will play a message, reply, lower the phone and it sends - and this is peer to peer, off the networks if you're both in Wi-Fi.
Federighi talks about all the new enterprise features. There's a device enrolment program that means you don't need to unbox devices and install things before handing them out to staff. Books and PDFs can be managed on them - great for education.
Apple has brought together health outputs into one place with HealthKit. Family Sharing lets you share things you select - images, reminders, appointments - and even iTunes purchases, for up to six family members. Kids are prompted to get permission before purchases - the parent has to approve. This is very popular with the crowd. iCloud photo libraries handle edits and organisation now.
Smart controls have been added for exposure, cropping and straightening. They use detailed image analysis. Editing an image on your iPhone updates it in your iPad and a mac version will appear next year. The extra allocations of iCloud space have dropped in price dramatically - they're much more affordable and worthwhile.
Siri can be started up with 'hey Siri'.
Tim Cook comes back to deliver the Developer section. Three hundred million people visit the app store weekly. Developers can now create app bundles. "I do read your emails." They can also include short video previews. A new service is TestFlight. All these are very popular with the bulk of the crowd, who are, after all, developers.
The new SDK is the biggest recode since the App Store was launched. It has extensibility, so apps can offer services to other apps. Big cheer. This has to handle the sandboxing that keeps apps - and your privacy - safe. Third party apps can define widgets for Notifications. Third party imaging apps can be accessed from within the iOS photo album.
Touch ID is now accessible to third party apps to secure their services. Craig Federighi goes through the APIs for cameras so other apps can access focus, exposure etc.
Home Kit offers a common network protocol and pairing procedures. CloudKit offers iCloud services to developers, mostly free.
Metal is a new standard for 3D graphics, it's up to 10x faster games etc, and this has already been run out to games houses including Unity, Krytek and Epic. The founder of Epic, Tim Sweeney, takes the stage to demonstrate. It's pretty sensational, boasting an incredible array of fast moving, developing objects.
SpriteKit, introduced last year at WWDC, has been enhanced. Added this year is SceneKit.
XCode the toolset for building all code for mac, iOS has had an Objective C makeover. There's a new programming language called Swift ... biggest cheer yet. It has modern features like closures and more - the developers really love this. They're almost jumping up and down. Common programming errors are simply not possible. Also, it can fit in with, and run alongside, existing Objective C code you may already have written. Chris Latimer takes the stage to demonstrate Swift: it runs code as you type it. It's an interactive and dynamic programming language.
Eight minutes to go and no products - this has been the most developer-focused WWDC ever. iOS 8 is available to developers today, in beta, and everyone else will get it in a few months (i.e., 'in Fall').
Tim Cook comes back and the expectation is palpable; he recaps everything covered for developers today. He reiterates that Apple develops devices and software in parallel. The crowd is totally silent. He gets Apple employees involved in what was presented to stand up for an ovation.
And ... no new product. He leaves the stage. This is a new era for Apple.
WWDC keynote including iOS 8 and OS X Yosemite is available in H.264 QuickTime movie that will work on both Mac and Windows PCs: