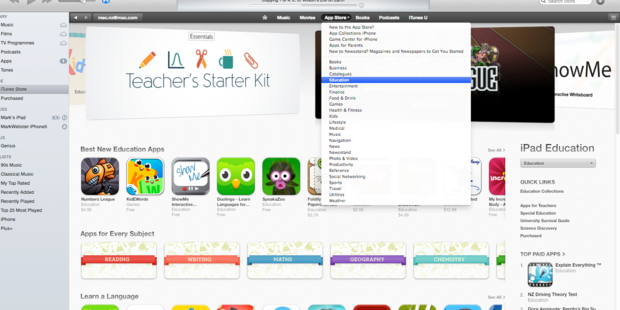 Apple has long been associated with education - partly because Apple made moves in that direction very early on, partly because Apple's perceived ease of use, again early on, appealed to teachers both to learn on themselves and then, in turn, as a platform they could teach to students.
Even in far away New Zealand, educators at schools, universities and polytechs were (and still are) strong Apple users, and various support networks have existed over the years to foster this. iPads aren't the cheapest tablets, but they still increased the profile of Apple in education. They're cheaper and more portable than MacBooks and, with the Retina versions, both more readable and more powerful.
Apple has sold 10 million iPads to schools around the world, and some New Zealand schools at both ends of the decile rankings have gone all-iPad, or in some cases have launched agnostic bring-your-own-device regimes. Of course, the New Zealand example pales into insignificance compared to rollouts like that of the Los Angeles Unified School District, which did a US$30 million deal with Apple last year to equip 35,000 students across 47 schools with iPads.
iPads were approved by unanimous vote from the Board of Education which favoured Apple, contending that Apple offers the better product in the face of protestations from Microsoft to avoid a 'one-size-fits-all' solution. Partly the board pushed the acquisition along to accommodate impending state and federal computer-based testing of students.
Of course, mass adoptions like this just add to the efficacy of the Apple platform. Teachers will develop, or cause to be developed, apps they need and want, and a whole ramp of kids will have their first tastes of 21st century computing on iPads. This should lead to more app development and demand from Apple, pushing the cycle to ever greater revolutions. But it's not all apple trees waving in the breeze - in the LA example, problems quickly appeared: students hacked their way past the tablet's security and parents raised concerns about being liable for iPad damage. The program ran into cost overruns and soon, the iPads were recalled. Pundits reckon the process was simply too fast - as a Macworld article points out, there's a right way to do it, and that involves taking your time. When 1200 iPads were distributed in Burlington, Massachusetts, officials took 15 months choosing devices, adopting policies and training teachers before any reached students. San Diego created a five-year technology plan, with the first tablets used in just ten of the city's schools before wider adoption began in years four and five.
While New Zealand begin to do rollouts on the scale of Los Angeles, iPad is already a significant player here. There are over 75,000 education-specific apps in the app store, some that enhance the curriculum and some that fit directly into different curricula.
You can check out this world for yourself, if you have an iPad. There are three primary avenues for educational tools: the App Store, iTunes U and iBooks.
As for iBooks, the app is free and on all new Macs from 2013 onwards, and it's a free download on iDevices - but it's much more than a PDF reader. Using iBooks Author, Apple's free authoring tool, it's possible to build extraordinary interactive books that let you really explore subjects multidimensionally. For example for only NZ$2, check out the Australian masterpiece EO Wilson's Life on Earth.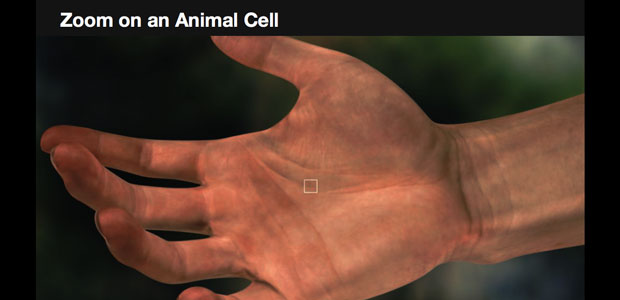 It presents clear information followed by summary question-and-answer tables. Videos are bright and detailed and informative and some are interactive - for example, on one of the pages in the Cellular Life section: you see a hand, and you can dive right into the skin to see its structure and then right down into the cells. That's a 10,000 times magnification. Called 'Zoom in on an Animal Cell', it's really worth interacting with. A few pages later you can watch an animated plasma cell, with a voiceover telling you what's going on (there are dozens of these types of videos in this very cheap book - you'll need iBooks 3 or later on an iPad running iOS5.1 or later or a Mac running OS 10.9 or later).
Apple has a page giving you a pretty good indication of what iBooks means for modern textbooks. It makes our former dusty old tomes look positively third rate.
Apps, of course, are widely understood by most people. You can see what's available in the App Store part of iTunes, or in the App Store app on your iDevice. Choose the Education category and you'll find sub-categories for Reading, Writing, Geography, Maths, Chemistry, Life Science and Astronomy & Earth Science. There are also languages, school and university toolkit apps, apps for learning music ... loads to learn from.
Possibly the least known aspect of Apple's digital educational services is iTunes U. Hopefully some of you are using the Podcasts section of iTunes already, and/or the Podcasts app on iPhone/iPad. These are free audio (sometimes video) files you subscribe to and listen to when it suits. I have a huge hoard of history podcasts plus some tech topics subscribed to. Did I say 'free'? OK: free.
iTunes U is the facility whereby universities and other learning institutions produce podcasts of lectures, also mostly free, for your edification. So you could be in Paekakariki listening to a professor in New York proclaiming on Ancient Assyria. Why not?
But recently the whole iTunes U thing was expanded to link in with texts, which cross pollinates with iBooks. A course in iTunes U can host links to iBooks, free or paid, and the iBooks can be created specifically by the educators, so not for sale generally and password-protected to the course. Lecturers can sign people up for course-work all within iTunes U.
iBooks Textbooks allows publishers to create interactive digital texts for students that can be accessed via the iBooks app on Mac or iDevice, while iTunes U Course Manager allows educators to create fully-guided course programs for use with the iTunes U iOS app. The two are tightly integrated, as texts used in iTunes U courses can be made available via iBooks.
There is also an iTunes U app for iOS, by the way. Something we can all learn from.