Study looking at links between scenarios in videos and aggression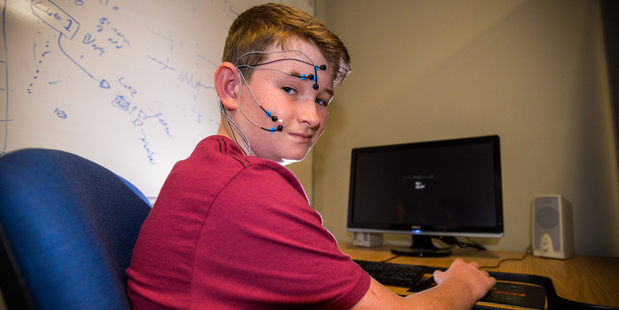 A study into muscle movements in teen gamers may shed light on links between violent video games and real life aggression.
Sam Payne, a Massey University masters student in psychology, is researching a potential link between violent games and moral decision making in children aged 13 or 14.
Violent games have been linked to aggressive behaviour in youth.
Payne is using several measures to see if violent games carry over to real-life aggression — including recording smile and frown movements and hand grip strength of subjects as they play.
Sensors are placed on the forehead and around the mouth as subjects play one of three randomly chosen versions of an M-rated game. Grip strength is measured by a dynamometer.
The three games include a control game where there is no killing; a version where only characters who attack can be killed; and one similar to an "open world environment" style of game where enemies, as well as innocent bystanders, can be killed.
"I want to know what difference, if any, it makes when a player has violent encounters with passive characters as well as aggressive ones," Payne said.
"Many modern games have innocent bystanders a player can interact with, sometimes violently.
"I want to know if this type of violence can have any different effect on the player's state of mind when compared to violence against known enemies."
Payne also recorded feelings before and after gaming and had participants answer a moral-dilemma question.
He used a well-known scale where gamers pick from emotive words like angry, hostile, happy and sad before and after play.
Payne said he was interested in establishing if there was any link because it was often already reported as true.
"People are a lot more worried about youth, they are going through puberty and it is already a tumultuous time — there is a lot of shaping of personality around that time."
Payne has studied 31 participants but needs another 29 to validate his research.
Participants need to have a good understanding of English and be able to visit the Albany campus in Auckland with a parent or guardian. They will play a video game while having their facial muscle activity recorded, and undergo tests.
Anyone interested in taking part can contact him at sampaynepayne@gmail.com.