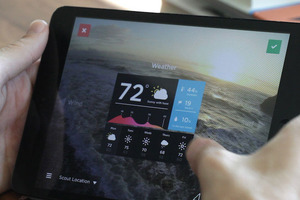 SNEAK PEEK: If you've ever been caught up in a holiday weekend traffic queue you might have wished you could look ahead to see when the road would clear. In a few US cities that may soon be possible, thanks to Gofor's Drones On Demand. Use a phone app to call up a drone that can take photos or supply a video feed. The app also integrates with other services such as Google Places to provide relevant local information. Depending on the task, drones either operate autonomously or are flown by skilled operators. That kind of service is going to provide many challenges to privacy and other laws.
LEADING STORY: The Fotokite is a quadcopter on a dog leash, and with a steadicam attached. It has no remote control, GPS or other features that could run afoul of Airspace regulations, but can be used to take aerial photos of the area around the operator. Because it's ready to go as soon as it's switched on it could be particularly useful for news reporters, or drivers in a traffic jam.
DUST TO DUST: NASA's Lunar Atmosphere and Dust Environment Explorer spacecraft spent about 6 months learning about the Moon's thin atmosphere and testing out a laser broadband link fast enough to stream videos from the Earth to the Moon. Then, since it had run out of fuel, researchers intentionally crashed it into the Lunar surface at some 1600 metres per second. That helped preserve existing lunar landing sites, but obliterated the craft as it crashed. There's an art to knowing when to stop.
CLEAN OFF THE DUST: The ISEE-3 probe was launched in 1978. First it studied the interaction between the Earth's magnetic field and the solar wind then it went on to intercept a couple of comets before investigating coronal mass ejections. In 1997 it was decommissioned by NASA, but it was left in an orbit that could allow it to come home. Now a group of enthusiasts aim to have it fire its thrusters to put it into Earth orbit where it can be used for citizen science projects, measuring plasma, high-energy particles and magnetic fields. The way orbits work though there is only a short window to make this happen: in late May or early June 2014. If the enthusiasts can find the funding, that is.
WATER WORKS: Our homes are great places to find running water: toilet flushes, showers, washing clothes or dishes, even drainpipes from the gutters. Researchers in Korea adapted a transducer to convert the mechanical energy from the motion of water into electrical energy. In their system the motion from a 30?l water droplet generated enough electricity to power a single green LED. The researchers say the flexible and transparent electrodes could be used to coat surfaces such as windows, roofs and even toilet bowls to generate electricity from raindrops and water flow. It would be interesting to combine that with a super-hydrophobic surface.
Miraz Jordan, knowit.co.nz