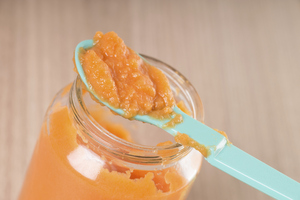 IT'S FOOD, JIM: Most of us can't afford our own personal chefs and dieticians, but perhaps 3D printing could help us with our food. A European programme called Personalized Food Using Rapid Manufacturing For The Nutrition Of Elderly Consumers is aimed at frail elderly people who have trouble chewing or swallowing food. At the moment they are often given pureed food, but that generally doesn't appeal much and can be unappetising, which can lead to weight loss, reduced energy and less zest for life. The idea of the project is to establish an individual's needs and preferences and then use 3D printers at the manufacturing level to create tasty and appealing individual frozen meals that can be microwaved ready for eating. It's an interesting idea.
DON'T ADD WATER: US researchers are working on polymers that could serve as transient resistors and capacitors.
The idea is that once the electronics have completed their task, or become inconvenient or a liability, they could be triggered to dissolve. In one demonstration the researchers added a drop of water to a clear polymer composite base with the electrical leads for a blue LED embedded inside. The water degraded the polymer and melted it away so the light went out. Eventually this could perhaps lead to credit cards that could be triggered to destroy themselves if stolen, or sensors attached to food that would naturally degrade, showing the food was no longer fresh either. Their lab must be a very dry environment.
GOING UP?: Every day a couple of hundred thousand people commute between La Paz in Bolivia and its former hilltop suburb, the city of El Alto, home to the highest international airport in the world. The problem is that a sheer-sided canyon turns that commute into a 15 Km journey by road via the head of the canyon. The solution is to install 3 cable car lines up the side of the canyon, with each line capable of carrying 3000 people per hour in each direction. The 11 Km cable car will be the longest urban cable car system in the world once it's complete. Oh, and La Paz is 3650 metres above sea level, so the air will be thin up there. Hmmm, 200,000 people divided by 9,000 per hour … well, it's a start.
OVER HERE!: If you fly to another city your aircraft is probably being tracked by radar. A tower sends out a signal that bounces back from a transponder on the plane, giving away its identity and altitude so the location can be determined by calculation. That method allows a controller to determine a plane's location within around 3 Km. On the other hand the Automatic Dependent Surveillance-Broadcast (ADS-B) location system uses inertial data and GPS so the plane itself can determine its location to within around 30 metres. That location can be relayed to ground stations every second meaning much more precise tracking is possible, while weather and traffic movements can be sent back to pilots. That seems like a useful development.
SEA CHANGE: US Navy researchers took a radio-controlled P-51 replica plane powered by an off-the-shelf and unmodified two-stroke internal combustion engine and sent it off on a flight. The unusual thing though is that the plane was powered by a liquid hydrocarbon created from carbon dioxide and hydrogen recovered from sea water. The test flight proved the concept of seawater as a fuel source, but now the researchers need to scale up the process for commercial modular reactor units. Imagine a refuelling ship that floats around creating fuel from the sea beneath it.
Miraz Jordan, knowit.co.nz