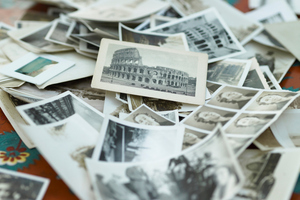 PRINTS FROM PHOTOS: When you take a photo the image sensor in your camera includes a unique pattern of noise thanks to slight imperfections. Tiny variations in silicon chips create differences in the light response of a sensor. That adds a pattern of inconsistent responses, interference, or noise, to every image the sensor captures. At the moment that noise can't be removed or faked without detection. The noise is generally invisible to those looking at the photos, but can be extracted and used like a fingerprint by forensic investigators. And that could help law enforcement track down those responsible for images of child sexual abuse, or anyone else who creates photos in relation to a crime. Studies of images found on social networking sites have been moderately successful in matching the images to one another or the camera that took them. While that may not be definitive enough to stand up in court it could be one useful strand of evidence among many. Fingerprints are often undesirable around a camera but these could be invaluable.
GAME ON: An important part of the game of golf is being able to select the right club to hit the ball the right distance. Many golfers don't correctly estimate those distances, but the Game Golf system can sort that out. Attach a small plastic disc to the end of each club in your bag then clip on the belt unit. The belt unit contains a GPS and a chip reader that can tell which club you're using when you tap the plastic marker to the box. After the shot walk to where the ball is and repeat the process. The system can then work out how far you hit the shot and which club you used. Later attach the device to your computer and send the data to a website that then produces stats, maps and other data to help you with your game. The data may be more useful on the spot, but better late than never.
HEALTH IN FOCUS: In sub-Saharan Africa Kaposi's sarcoma is one of the most common forms of cancer and late diagnosis leads to a low survival rate. Testing usually requires precision electronics to heat and cool bits of of herpes virus DNA. Engineers at Cornell University have created a KS-Detect device that uses the sun's rays instead. A sample moves along a channel on a chip. The chip is placed beneath a disc where the edges are cooler than the centre thanks to a lens that focuses the sun's rays on the disc. As the sample moves along the channel it is alternately cooled and heated causing a reaction that amplifies traces of the herpes virus DNA until there's enough to detect with a smartphone. The device could be easily modified to check for other diseases instead. The whole thing could make it possible for people to be tested where they live rather than having to travel to a possibly distant medical centre. Then all they need is the treatment to be available and affordable.
PUMP AND TWIST: The heart is one of several muscles in the body that not only stretch and relax but actually twist while they work. The bottom of the heart twists as it contracts in a counterclockwise direction while the top twists clockwise. That means the pumping action resembles wringing out a towel. It's hard for those developing models of the heart to replicate that twisting motion, but now a team at Harvard University have developed a material that can do it. A modified pneumatic artificial muscle is embedded within a matrix made of a soft silicone elastomer that allows the muscle to twist. Now they can deactivate certain artificial muscles to mimic particular kinds of damage to the heart. They hope now to develop biocompatible versions of the matrix, and ultimately a new kind of implantable cardiac device. So a twisted heart is actually perfectly normal.
HIGH HOPES: The Indian Space Research Organisation has created a 4 metre high prototype of a human space capsule. The capsule will fly on India's Geosynchronous Satellite Launch Vehicle for a test flight this year, although it's not yet ready for a human crew. The aim will be to remotely test some in-flight controls and see how the module survives the stresses of re-entry and landing at sea thanks to two parachutes. More space expertise must be a good thing.
Miraz Jordan, knowit.co.nz