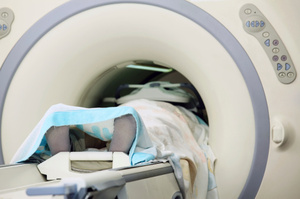 AVAST YE SCANNERS: Medical imaging equipment like MRI machines and CT scanners can be quite scary, especially for children, who may need to be routinely anaesthetised just to keep them still enough to have a scan. One MRI machine designer found a way to redesign not the mechanics of the machine but the environment to make a scan an adventure. He created a story where the child became the hero, and used artwork to transform the scanner and room into a pirate ship or a spaceship where the child's role was to lie still in order to later claim treasure. The medical staff led the child through their adventure story as they completed the scan. Kids are now keen to get their scans, rather than being so terrified they have to be knocked out. Sometimes a tech development isn't so much a matter of better gadgets as a better approach.
LET'S ALL MEET AT MARS: India's Mars Orbiter Mission will launch in October or November this year. The Mangalyaan orbiter weighs 1350 Kg and includes 5 science instruments to study the atmosphere, morphology, mineralogy and surface features of Mars.
NASA will be helping with communications and navigation support through its Deep Space Network. After initially orbiting the Earth the craft will head off to Mars later in November, to arrive in September 2014. It should be able to collect data from Mars for 6 to 10 months. Mars is becoming very popular.
GET BACK THE WATER: Every day millions of girls and women walk a long way to collect water for their families. They often end up carrying barrels or buckets on their backs or heads, which can cause health problems. The water itself is often not clean either. The PackH20 is a backpack carefully designed for carrying 20 litres of water. It uses a liner that can be sterilised after each use by exposing it to sunlight. It also has a spout for dispensing water and a puncture-resistant outer shell. The backpack itself is 7 times lighter and smaller than the average plastic jerry can. Some advances that in retrospect are obvious can be slow to arrive.
SPREAD THE WINGS: The prototype Aeromobil Version 2.5 parks on the city streets like any other car, although it does look a little unusual. But after a drive to the airport this car turns into a plane. The wings unfold from the body, the propeller at the rear spins and you're off into the air. The vehicle can travel at up to 160 Kph on land or 200 Kph in the air and has a range of 500 and 700 Km respectively, though flying uses twice the fuel. The vehicle carries 2 passengers. Getting from road to runway is bound to be the next big barrier.
LIGHT DELIGHT: Nokero's new N222 lightbulbs do something a bit clever: rather than plugging into a standard electric lightbulb socket they're powered by the sun and can charge up a cellphone as well. If electricity is available the LiFePO4 battery can be charged up from a wall socket, otherwise the solar panel does the job. The bulb can be used on a stand or hung from a hook and its LED produces 50 lumens for 6 hours. The bulbs are designed to be used in countries where kerosene lamps are the only source of light at night. Those kerosene lamps have to go.
Miraz Jordan, knowit.co.nz