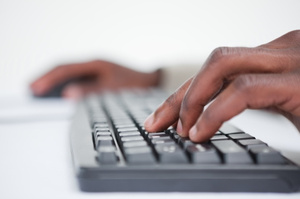 YOUR WISH IS MY COMMAND: In a lab at the University of Washington a test subject sat in a chair and imagined pressing the spacebar on his computer to fire a rocket in a game on screen. In another lab some distance away another test subject actually did press the spacebar, involuntarily. The two were connected through electrical brain recordings and a form of magnetic stimulation. One subject wore a cap with electrodes hooked up to an electroencephalography machine. The signals recorded from his brain were sent via Skype to the other subject who also wore a cap. His cap was different because it placed a transcranial magnetic stimulation coil directly over his left motor cortex to control hand movement. One thought, one motion, two different people. Remarkable.
WHOLE IN ONE: Panasonic's new sports camera system has a 160 degree horizontal field of view. The 64:9 Ultra-Wide Camera System can capture an entire sports field in one 720p image.
It doesn't use a single lens though to capture that wide view. Instead it has four cameras mounted together that use visual cues to automatically pan, tilt and zoom to follow the action. Software then stitches all the images together to create a seamless panorama. It'd be interesting to see how it handles a wide view of crowds on a street or in a railway station.
LIGHT WAVES: The German AREA LED lamp fits under the kitchen cupboards. 24 LEDs with a colour temperature of 2900 K, a warm white, make up the lamp. Turn all or only some of the LEDs on or off with a wave of your hand. Drag the light from one end of the lamp to the other with grab and pull gestures below the lamp. Sensors detect the movements and instantly activate the corresponding LEDs. Be careful with it above any work space.
HEAT, LIGHT, FLOW: Solar cells rely on sunlight at certain energy levels hitting silicon or a similar material to excite electrons and cause electricity to flow. But solar cells also absorb more energetic sunlight that is simply lost to heat. Researchers combined lead and selenium to create tiny dots 10,000 times thinner than a human hair and added them to solar cells. If an electron absorbs high-energy sunlight, and if the molecules are small enough, that too creates a flow of electricity. In theory at least that could increase a cell's efficiency by some 10% to around 45%. Fortunately, there's enough sunlight for everyone.
HEARTS ON WINGS: We hear a lot about drones in relation to the military, but how about if they could deliver medical equipment too? The Defikopter is being developed by a German non-profit group. After being launched by a specialised smartphone app that sends GPS coordinates, the drone flies a defibrillator to someone suffering a heart attack. The drone can fly at up to 65 Kph which could be a lot faster than an ambulance navigating roads and traffic. Include video camera, speakers and microphone and an operator could help talk the user through the procedure too.
Miraz Jordan, knowit.co.nz