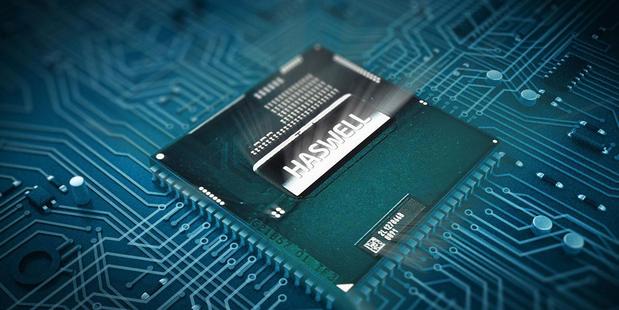 If the automotive industry developed at the same pace as Intel, we'd all be enjoying zippy two hour trips to the moon on a half a litre of unleaded, anticipating next year's one hour trip to Mars on a thimble of gas.
Intel's ability to crank out successive generations of chips that are faster, use less energy and generate less heat is something we all take for granted. This said I was definitely impressed by their latest chip, a 4th gen Core i7 CPU, otherwise known as Haswell.
Having secured a loan Haswell/motherboard combo, I got to work installing it. It'd been a while since I've delved into the bowels of a desktop PC, and like most people in this age of notebooks and tablets I'd forgotten just how much fun it can be tinkering with your PC's innards.
Although Haswell offers some pretty compelling performance gains, it's also pretty much designed from the ground up to really shine in laptops and tablets, which limited its utility in the desktop PC form factor.
A New Socket
The introduction of the Haswell also sees a CPU new socket. Over recent years, Intel had supported the LGA1155 socket, but that's been replaced by a new LGA1150 socket which is incompatible with older Intel CPUs. This means getting faster more energy efficient silicon will also require you fork out more cash for a new motherboard as Haswell's features are not able to be supported with older motherboards. Thankfully it also appears that newer LGA1150 socket equipped motherboards should be slightly more affordable.
Energy Efficiency
One interesting trend that's becoming increasingly apparent with Intel silicon is their penchant for taking discrete functions normally found in separate cards or as motherboard components and baking them straight onto their CPUs. Intel's previous iterations embedded the memory controller then the PCI controller and this was most recently followed by integrated graphics.
This trend hasn't stopped with Haswell, which sports an in-built voltage regulator. Doing this means that Intel can control the power into fed into the CPU to a significantly finer degree, which should have the added benefit of lowering motherboard costs because less external components are used.
The big benefits of this move become more apparent when you look at the Haswell's target market - portable devices such as laptops and tablets. Having an integrated voltage regulator allows precise control over power consumption for improved battery life without added bulk, and in the case of a tablet or Ultrabook, this is definitely a good thing.
Overclocking
As with Sandy Bridge, Intel is supplying overclockable "K" series Haswell CPUs for a modest price premium, while non-K Haswell CPUs are locked, and in theory not able to be overclocked. The good news however is that Haswell K silicon offers even more granular control over overclocking thanks to additional overclock ratios of 125MHz, 160MHz, and 250MHz.
Graphical Grunt
Haswell also has 128MB embedded DRAM, to help kick integrated graphics along. The big bonus here is that the DRAM should also in theory act as an L4 cache, which also delivers a nice performance should boost.
With Haswell's spec'd up graphics, multimedia and general performance tweaks, plus vastly improved power consumption are likely to see it garnering some serious traction once notebook, tablet makers embrace it. So far Haswell silicon can be found in the latest iteration of Apple's rather delectable MacBook Air and MacBook Pro.
Anecdotally, testers who've managed to get hold of either Apple notebook have found anything from a 30 to 40 per cent graphics performance gain over the previous generation Airs and MacBook Pros. This is obviously subjective and really depends on the application as the demands placed on Haswell's integrated graphics engine will vary widely.
Improved integrated graphics performance may not be terribly exciting, but in practice it should result in Haswell delivering performance that approaches budget discrete graphics cards, with stutter-free HD video playback, fast video transcoding and playable frame rates in games.
Battery Life
What's probably going be most noticeable however are battery life improvements. Early MacBook Air reviews indicate that getting 12 hours of battery life out of a Haswell equipped MacBook Air or 9 hours when streaming HD video is the norm, which is of course dead handy and should mean that for day to day use, lugging around a power brick may no longer be necessary.
Verdict
Apple may already be packing Haswell goodness, but indications are that other manufacturers like ASUS, Acer, Dell and Lenovo will also soon be packing Haswell silicon. It'd be fair to assume that near gaming PC levels of performance and substantial battery life improvements will make the next generation of Haswell equipped Ultrabooks/notebooks very compelling indeed.